With more than 40 lube points on a commercial truck chassis, each with different requirements, that's a lot of lubing to be done. It's also a lot of potential parts damage if some of those points get overlooked.
Nonsealed U-joints are among the most neglected lube points on the tractor, says Steven Bowels, senior lubes product specialist for Citgo. "They get a lot of contamination — water, road dirt, salt," Bowels says. "The seals are susceptible to failure, which allows grease to escape and contaminants to get in."
Others get missed because someone doing maintenance from a pit might not pop the hood, says Paul Cigala, CVL applications engineer for ExxonMobil. It's points "above the tires or under the hood that seem to be the areas that are most frequently missed," he says.
Another overlooked lube point isn't on the tractor, says Stede Granger, a technical services manager for Shell Lubricants. "The driver seems to have a very good attachment to the tractor, but not on the trailer bearings, because he or she may be pulling different trailers, so he or she doesn't take real ownership of that," he says.
Other neglected lube points include the kingpin, which can be a problem because of heavy loads on the front axles, and the fifth-wheel pins where the fifth wheel connects to the chassis. "If a truck comes in and has a trailer on it, a lot of guys won't spend the extra time to jack the pressure off of that pin so it can accept grease," Granger says.
While it used to be more common to sync lubrication work with service intervals for engine oils, transmission fluids and axle fluids, that's become more difficult, says James Booth, commercial sector manager for Chevron Lubricants North America. Service intervals for many fluids have been lengthened, and many greased components are labeled "fill for life."
Also, Booth says, hot road temperatures can put extra stress on lubricants. "High summer temperatures generally require a stiffer, higher NLGI grade grease versus the winter," he says. "Greasing is also affected by the season, with the really hot months requiring more frequent lubrication, as well as some of the winter months when driving through a lot of snow and salt."
Bowels says a good NLGI 2 lithium complex grease can handle most lube points. Cigala says trailer wheel ends typically require gear oil or an NLGI 00 grease.
"If you picked out the absolute best grease for the truck, you'd probably pick out more than one," Granger says.
Ron LeBlanc Sr., senior technical adviser for Petro-Canada Lubricants, says one high-quality grease can be used for all chassis and fifth-wheel needs, while wheel ends may need a synthetic product.
The value of auto-lube systems
The use of electrically controlled automatic lube systems, popular with trucks in Europe, is also growing in the United States. Not only are they labor savers, considering the dozens of lubrication points, but they also can improve maintenance.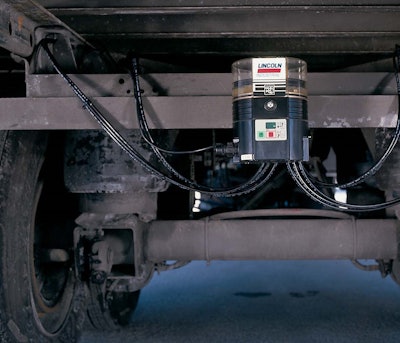 "The biggest advantage of an automatic grease dispensing system is that the lubrication points periodically get a small amount of fresh grease, containing fresh oil and additives, much more often than just at the service interval," says Steven Bowels, senior lubes product specialist for Citgo.
"When it comes to relubricating grease joints, a little bit of grease more frequently is better than a lot of grease less frequently," says Stede Granger, OEM technical services manager for Shell Lubricants.
Also, automatic systems allow for lubrication while the truck is moving, an impossible task when done manually.
An automatic lubrication system consists of injectors or valves, a pump, a controller, tubing and fittings that connect to the lubrication points. That entire network needs occasional spot checks to ensure it's working as designed.
"It's something else to maintain, but it can be a valuable piece, especially if you're extending drains," says Paul Cigala, CVL applications engineer for ExxonMobil. "It's one less thing your mechanics have to worry about."
Auto-lube drawbacks
While the advantages of automatic lube systems are enough to win customers increasingly, there are downsides. Here are some points raised by James Booth of Chevron Lubricants, Paul Cigala of ExxonMobil, Stede Granger of Shell Lubricants and Ron LeBlanc Sr. of Petro-Canada Lubricants.
• It requires effort to calibrate, monitor and maintain the system. Seasonal temperature swings can require greases to be changed so there is a reliable, smooth flow through the system.
• If an automatic system isn't inspected frequently enough, an undetected malfunction could result in serious damage to truck parts.
• Manual greasing creates an opportunity for a technician to notice maintenance needs unrelated to lubrication.
• In proper manual lubrication, the new grease pushes out the old grease and any contaminants. Visual inspection to verify that replacement doesn't happen in an automatic system.