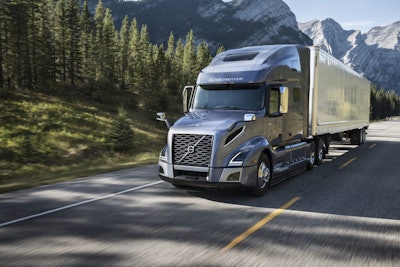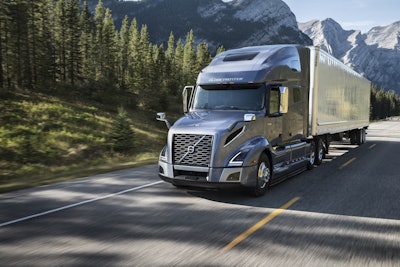 Volvo Trucks on Monday announced a new fuel economy package, dubbed Xceed, available for the VNL 760 and VNL 860 for trucks pulling dry van and refrigerated trailers. Volvo says the package can increase fuel economy by upwards of 10 percent over its Fuel Efficiency Plus spec and 3.5 percent over the Fuel Efficiency Advanced spec.
Xceed, which was announced at the American Trucking Associations 2018 Management Conference and Exhibition in Austin, Texas, will be available for order beginning in January 2019 for 2020 models.
The package offers dedicated wheelbase options to ensure the optimal trailer gap of around 44 inches for dry van or refrigerated trailer applications. Lightweight components like a horizontal exhaust system, a dedicated rear axle, limited fuel tank configurations, lightweight fifth wheels and aluminum chassis components help reduce the weight of the VNL models by up to 950 pounds.
"The Xceed package bundles our most efficient features to help simplify the truck spec'ing process and ensure critical components of the fuel efficiency equation aren't overlooked," said Allison Athey, Volvo Trucks North America product marketing manager.