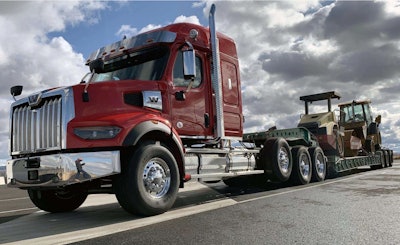 Vocational truck design usually doesn't get the attention to detail, certainly a focus on in-cab pampering, that highway truck design gets. Western Star stepped out of that practice when it redesigned its all-new 49X from the ground up. Among the project's seven target benchmarks were operator comfort, and the Daimler Trucks unit certainly didn't skimp on meeting the other six: maximum uptime, best-in-class safety, a proven powertrain, purpose-built, durability and ease of upfit.
And while it might not have been a primary benchmark, the overall appearance of the 49X shines. Beauty might not seem important for a truck that's intended to get down and dirty, but the angular body and wide stance make an attractive presentation.
The 49X is the brand's next-generation vocational truck, but it doesn't replace its 4900 series.
During a recent series of test drives in Madras, Oregon, I was able to see exactly how well the 49X's design targets were met. The outings included piloting loaded and unloaded dump trucks at a working quarry, and a heavy-haul tractor in the mountains.
HANDLING. Central Oregon's highways have plenty of long, steep slopes. Mastering them, even with a belly dump of gravel, was no problem for the DD15 (560 hp, 1850 lb.-ft. of torque) and the DT12-V.
With different gear sets than the standard DT12, the DT12-V has a vocational spec geared with deeper reduction, notably in the first three gear ranges. An off-road mode offers some useful features, such as controlling how fast the clutch engages, and then optimizing the shift mechanism and shift duration, finely controlling it under load.
Off-road mode allows the engine to rev to a higher RPM to minimize the overall number of gear shifts, because you want to shift as little as possible in sloppy terrain. I found that the DT12-V holds gears longer. Shifts happened faster, reducing loss of torque.
HVAC. My 30-degree day at the quarry was no match for the 49X's improved climate control. The truck's new Idle-Free Dual HVAC system will deliver up to 10 hours of cooling or 34 hours of heat when parked.
SLEEPER. The 49X offers sleeper options of 36-, 48-, 60- and 72-inch low-, mid- and high-roof options, including a new rear window option. There is large passenger- and driver-side storage cabinets, as well as available cabinetry for a refrigerator and a microwave. An optional loft features a table that can be folded flat to accommodate a mattress. A large insulated sleeper window in the high-roof Stratosphere can be used for venting.
UPTIME. When the truck is equipped with a Detroit engine, the Detroit Connect Virtual Technician remote diagnostics service will send an alert if the truck experiences a fault, including information on where and how it can best be fixed. By tracking fault code trends, Virtual Technician also warns of failures, allowing the owner to plan service. The service also notifies dealers to order parts so that service is expedited when the truck arrives.
SAFETY. Detroit Assurance is included for the first time in a Western Star. The driver assist platform features Side Guard Assist (SGA), Active Brake Assist 5 (ABA5), Tailgate Warning, Adaptive Cruise Control (ACC) to 0 mph, Lane Departure Warning, Video Capture, Intelligent High-Beam and Automatic Wipers/Headlamps.
Lane Centering and other automated steering features aren't available due to the size of the steering gears needed on the heavier axles, but such features are hardly essential to off-road work. Detroit Assurance detects when the truck is too close to pedestrians or other objects, a useful feature in crowded vocational sites.
An advanced LED headlight system can melt ice quickly or eliminate condensation in extreme humidity. The system has a 45-degree light pattern, providing a long, wide beam.
POWERTRAIN. The available engine options are a Gen5 Detroit DD15, Detroit DD16, Cummins X12 and Cummins X15. That means you can spec power output ranges from 350 to 605 horsepower and torque from 1,250 to 2,050 lb.-ft. With a new piston design and other improvements, the fifth-generation DD15 provides increased fuel economy. A smaller, lighter aftertreatment system improves performance, while other changes reduce the complexity of the emissions system.
PTO capability is available on all four transmission options: an Allison, an Eaton Fuller and two vocational-spec Detroit DT12 automated manuals. The DT12-V and DT12-VX enable improved startability and low-speed maneuverability. Either can be mated to either the Gen 5 DD15 or the DD16. A new planetary gear set design increases gross combination weight up to 330,000 pounds with the DT12-VX.
DURABILITY AND FUNCTION. There's no doubt that the 49X was designed for severe service. Still, its frame is about 350 pounds lighter than what supports the 4900.
The truck has the industry's first high-strength single-channel rail. It's splayed at front to allow for positioning the engine lower, enabling a steeper hood slope with better visibility and improved access for engine service. Wiring and air lines are separated and kept away from the chassis to reduce corrosion and other damage.
With 10% to 13% more space than its competitors, the cab, made from aerospace-grade aluminum, is the largest and lightest in its segment. The cab was one of the quietest of I've ever experienced, thanks in part to an engine tunnel that reduces noise.
Another weight savings comes from the new molded resin hood. It's nearly 100 pounds lighter than the 4900's fiberglass hood. It's even tougher than steel and fiberglass upon impact.
The largest operators will find the wide 70-degree door opening to be welcome. The steps are made from corrosion-resistant aluminum and have improved tread.
BODY MOUNT FLEXIBILITY. The chassis design accommodates easy mounting of bodies for any application. Variables include positioning of DEF tanks, battery boxes, air tanks and fuel tanks.
For additional detail and commentary about the 49X, watch this video: