Trucking news and briefs for Wednesday, Jan. 20, 2021:
Diesel prices up for 11th straight week

Diesel fuel prices across the U.S. increased for the 11th straight week during the week ending Jan. 18, according to the Department of Energy's weekly report.
According to DOE, the average price for a gallon of on-highway diesel is $2.696, up 2.6 cents from the previous week and up 32.4 cents from the 2020 low mark of $2.372 per gallon during the week ending Nov. 2.
Fuel prices are now at their highest point since the week ending March 16, 2020, when prices stood at $2.733 per gallon.
During the most recent week, prices increased in all regions, with the most significant increase being seen in New England, which saw a 6.4-cent increase.
California is home to the nation's most expensive diesel at $3.448 per gallon, followed by the Central Atlantic region at $2.924 per gallon.
The cheapest fuel can be found in the Gulf Coast region at $2.461 per gallon, followed by the Rocky Mountain region at $2.603 per gallon.
Prices in other regions, according to DOE, are:
New England – $2.764
Lower Atlantic – $2.627
Midwest – $2.632
West Coast less California – $2.804
ProMiles' numbers during the week saw fuel prices increase by 2.5 cents, bringing its national average to $2.61 per gallon.
According to ProMiles' Fuel Surcharge Index, the most expensive diesel can be found in California at $3.444 per gallon, and the cheapest can be found in the Gulf Coast region at $2.426 per gallon.
Driver named Highway Angel for helping at scene of fatal accident
Royford Burris, a Florida-based truck driver for Stevens Transport, has been named a Highway Angel by the Truckload Carriers Association for stopping to help at the scene of a two-car collision that resulted in multiple fatalities.
On Aug. 23, 2020, Burris was traveling on U.S. Highway 63 near Walnut Ridge, Arkansas, with a load bound for Ontario, Florida. He came across two cars in the middle of the road, one of which was on fire. A silver van had drifted over the center line, and a red car coming from the other direction wasn't able to swerve to miss it and collided head-on. The car was in flames.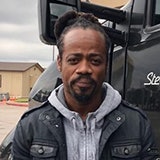 As he approached the scene, he pulled over and turned on his flashers. A pickup truck pulled up at the same time, and they were the first ones on the scene. They grabbed their fire extinguishers and ran to the car. After they extinguished the flames, Burris and the motorist discovered the driver's body lying about 20 feet away. He went back to his truck to grab a towel to cover the body.
Burris and the other driver then rushed to the van which was badly mangled. The woman in the driver's seat was deceased. Burris carefully lifted her out of the vehicle. EMTs had arrived and put her on a stretcher. He learned that her 6-month-old baby who had been in a car seat in the back had also died. The only survivor was a girl who appeared to be 13 or 14 years old. She was trapped in the front passenger seat.
"She was crying and in pain," Burris said. "She said she couldn't breathe. I said, 'look at me, I'm not going to let you die, I promise.'"
He called a police officer over and asked him to help. Burris kicked out the back door and climbed in to retrieve her.
"I was trying to break the seat apart," he said. "I ripped the seatbelt out. I don't know where I got the strength."
Burris struggled to free her and was finally able to extract her through the window and handed her off to the officer.
"I've never seen anything like it," Burris said. "I'm sorry I couldn't save the others. I had just told my wife that things were going well and the road was so calm. Once I saw those cars, I knew that it was my duty to help in any way I could."
Later, as he was leaving the scene, officers thanked him for his heroic actions and offered to escort him to the nearest safe haven, which Burris accepted. He has received updates on the girl's condition and learned that she is at home with her father.
For his willingness to help, TCA presented Burris with a certificate, patch, lapel pin and truck decals. Steven Transport also received a certificate acknowledging their driver as a Highway Angel. EpicVue sponsors the TCA Highway Angel program.
Missouri-based fleet rolls out new owner-op leasing program
Hazelwood, Missouri-based Artur Express recently rolled out what it calls a Profit Leasing Program for owner-operators.
According to the company, one of the main aspects of its lease program is that it pays the driver per mile, and all deductions are per mile as well. The driver only pays when they are rolling.
"If the truck doesn't move for a week because you're on vacation, your deductions stop; all deductions are based on loaded miles," said Artur's Director of Fleet Relations Steve Green. "Right now, after deductions with a 2018 Freightliner Cascadia, you should net nearly $100,000 annually depending on the miles you drive and lanes you choose."
Other notable aspects of the Profit Leasing program include no down payment or fixed lease payment. Through its leasing partnership, there are over 850 service locations nationwide, including on-site at the company's headquarters in St. Louis.
Other perks in the owner-operator program include:
No negative settlement guarantee
Bumper-to-bumper warranty for the entire lease term
Preventive maintenance that includes oil changes, tires, brakes and sub-rentals
70% to 90% drop-and-hook
Fuel cards, cash advances available, monthly fuel rebates
1099 contractor status
A choice between regional or OTR dry van, OTR reefer or expedited (team) freight
No forced dispatch – contractors choose what loads are best for them via Artur's online load board
To be qualified for the Profit Leasing program, contractors must have at least two years of driving experience and a clean driving record.