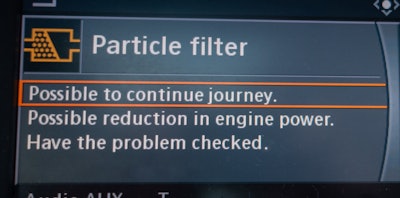 Diesel particulate filters (aka DPFs) have become ubiquitous over the past decade-plus. Any trucker running a rig built since 2007 likely knows well the pain points of maintaining and wrestling with the emissions-control component of modern trucks. DPFs trap particulate-matter emissions before they exit the exhaust pipe and then periodically burn off that particulate matter, a process known as regeneration.
Our colleagues over at Overdrive sister publication CCJ in February took a dive into best practices of maintaining a DPF and extending its life — methods you can employ to keep your DPF running longer and with fewer headaches and repairs.
Here are three key takeaways from that series:
Watch out for oil consumption.
The DPF collects upwards of 98% of particulate matter emissions in the form of ash, which is comprised of metallic compounds that originate in the engine oil, fuel, wear metals from the engine, or from dirt in the air the engine consumes. Upwards of 90% of the ash that goes into the DPF is from the lubricant.
Ash and soot buildup – left behind when engine oil is burned during combustion – shrinks the size of the DPF, and causes engine back pressure and excessive regeneration cycles.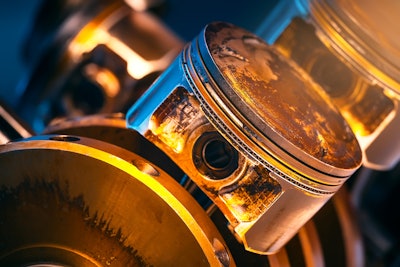 "Controlling oil consumption is a principal way to maximize DPF servicing intervals," said Shell Global Solutions OEM Technical Manager Karin Haumann. "Oil being consumed (i.e. burned) leaves behind an ash residue that comes from the non-combustible, inorganic material that is carried through the exhaust."
Metals are used in engine oils in the form of detergents, anti-wear agents or other multi-functional additives. When they're consumed in the combustion chamber, "that's where you're getting your ash content in your exhaust stream," said Mobil Commercial Lubricants Applications Engineer Paul Cigala.
One way to solve the problem of ash clogging in DPFs would be to formulate an oil without ash-forming additives, but Haumann noted these inorganic additives are useful to engines and are proven to provide engine protection.
A truck's duty cycle – like stop-and-go driving or high idle applications – and fuel quality also play a role in oil consumption, but the EPA requires that DPF service related to ash accumulation must not occur sooner than 150,000 miles for heavy duty trucks. That service interval for most OEMs is now well above 400,000 miles – and for some, upwards of 800,000 miles.
While synthetic base oils can allow lower viscosity engine oils to be formulated to minimize oil consumption, Haumann said "key contributors to oil consumption are piston and ring deposits and wear. A clean engine with clean pistons will prevent oil from passing by the rings and entering the combustion chamber and being consumed. Excessive ring and/or cylinder wear can also lead to excessive oil consumption which can lead to shorter DPF cleaning intervals."
Cigala also recommends sticking to recommended oil drain intervals of your truck's make and model and performing oil analysis to ensure oils aren't sending excessive particulates through the exhaust and into the DPF.
Use a coolant heater.
A few suppliers now offer diesel-fueled coolant heaters, which pre-heat the engine by warming coolant and then circulating it through the block to bring it to about 150 degrees before the engine cranks.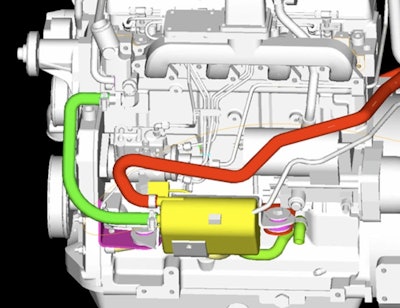 Pre-heating lowers DPF maintenance, drops emissions, reduces engine wear by heating up engine oil prior to starting and improves fuel economy by eliminating cold-start idling. Webasto, Eberspacher, and Victor Industries are a few companies that market coolant heaters, which are gaining popularity as carriers seek to improve DPF maintenance and cut associated costs.
"I would say over the last year, the use of coolant heaters has increased exponentially based on maintenance benefits as people experienced additional idle time which also translates to the DPF loading faster than maybe it should," said Don Kanneth, Webasto's director of aftermarket sales for heavy-duty trucks.
"By pre-heating the engine we're able to reduce a lot of soot and smoke on start-up which is helping the DPFs to live a longer life or go longer without a regeneration cycle," Kanneth continued.
Though electric, plug-in coolant heaters are available, Webasto, Eberspacher and Victor all agree that diesel coolant heaters are a better option when it comes to pre-heating an engine prior to cranking it up.
A diesel coolant heater will pay for itself in roughly five to six months, said Duane Bratvold, western regional business development manager for Webasto Thermo & Comfort. It will keep paying dividends so long as the unit is properly maintained, he said. Maintenance includes an annual fuel filter swap and running the system at least once a month for 20 minutes. The more often the heater is used, the better.
"If they can start that diesel engine and the diesel engine is warmed up, ready to go when they hit the key, the drop in emissions helps offset the other controls on the truck that are trying to control these emissions," Bratvold continued. "When you put the two together, we see companies that can go a year longer before they have any maintenance on a DPF. It's kind of fun to watch."
Opt for biodiesel.
Biodiesel and renewable diesel are often marketed as convenient drop-in fuel solutions for lowering emissions. They've also been shown to improve diesel particulate filter performance.
In addition to significantly cutting greenhouse gas emissions, both fuels emit lower particulate matter during combustion. Less particulate matter equates to less back-pressure buildup in DPFs and fewer regen cycles.
"Biodiesel burns so much cleaner that you're reducing that particulate matter by somewhere in the neighborhood of 50 to 60%," said Colin Huwyler, CEO of Optimus Technologies which produces the Vector System, a fuel heating solution that enables diesel engines to run on 100% biodiesel, or B100, in cold climates.
Biodiesel is refined from fats of animals and plants, rather than from crude oil. The Department of Energy says that biodiesel can work in any vehicle running standard diesel fuel.
SAE International has confirmed in various studies over the past decade that biodiesel particulate matter is lower than that of standard diesel – a benefit to to DPFs, prompting less frequent regenerations.
Renewable Energy Group (REG), the largest biodiesel producer in the U.S., says fleets using its product report similar benefits.
"We've heard directly from diesel technicians about how well biodiesel performs," REG Senior Marketing Manager Steve Klein wrote in a blog for Advanced Clean Tech News.
"It has higher cetane and added lubricity compared to petroleum diesel. Plus, fleets are reporting fewer issues with diesel particulate filters (DPF) because biodiesel's cleaner burn leads to fewer particulates getting to the DPF."