Thursday, May 20, 2021, at 5 p.m. Eastern time, this live panel discussion and Q&A offered a variety of ways to combat owner-operators' maintenance issues related to the emissions control systems in post-2007 emissions-spec heavy-duty diesels. The panel featured business consultant and Overdrive contributor Gary Buchs, Pittsburgh Power founder Bruce Mallinson, and Jeff Gray of Pontiac, Illinois, who runs an independent shop, Gray's Garage.
Gray notes his shop works "on all makes and models of heavy-duty trucks and trailers" now, more than half a century since his father, Roger Gray, founded the garage in 1963. Gray started working in 1976 and, as with Mallinson, has persevered through the "evolution of electronics in the automotive industry. ... You have to know how the system works and how it is wired, because there are many things that can cause" a fault code other than bad underlying components.
For many trucking today, Buchs said, it feels like "what we know about these systems is they work, or they don't work. And there's often little in between."
Since the first trucks with diesel particulate filters came into production in 2007, the systems have no doubt improved. It's not hard to find a truck owner with a million miles on an emissions-equipped engine who's done little in the way of repair work other than basic recommended maintenance, such as DPF ash cleaning. Manufacturer recommendations on service intervals for those DPFs have extended out many hundreds of thousands of miles, furthermore.
Yet for others, horror stories aren't hard to find, either, particularly for operators investing in second- or third-owner trucks, a common route for many a new owner-operator. Depending on how the truck was used in its prior life, issues can mount quickly when knowledge and careful attention to detail are lacking.
Just what should operators be paying attention to to mitigate issues? "In the late 1990s," Gray said, "I didn't want anything to do with a computer. Now, that's all I do. ... The bulk of my time [at work] is either doing diagnostics or programming. I truly believe that you need to learn something new every day, or you are going backwards."
He and the rest of the panelists hoped to be able to facilitate some new learning for you and answer your questions.
What are the biggest problems service techs are seeing with emissions systems in late-model equipment? What can owner-ops do to effectively head those off? How can drivers better equip shop personnel with information to effectively correct problems -- or assist them in preventing issues in the first place?
Rather than approach emissions equipment maintenance with the proverbial Band-Aid when something breaks, what might constitute a good PM program?
These questions are among those panelists attempted to address in this hour-long event.
The discussion was streamed live via Overdrive's Youtube channel and this page at OverdriveOnline.com in the video embed above.
[Related: 3 ways to extend DPF life and keep filters running cleaner]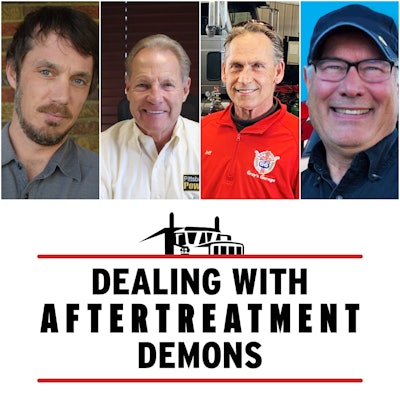 About the panelists:
Gary Buchs lives with his wife, Marcia, in Colfax, Illinois. Formerly leased to Landstar, the longtime owner-operator retired from active hauling in October of 2019 after a decade and a half and more working with multiple freight agents and dispatching himself on dry van runs in the region around his home base. Today, he offers private owner-operator business coaching services, sharing the wealth of knowledge he picked up over his career. Buchs was named 2016 Owner-Operator of the Year award in part for his professional acumen. A regular contributor to Overdrive Extra blog, Buchs' reporting on diesel aftertreatment service and preventive maintenance in part spurred plans for this event. Read that story via this link.
In 1977, Bruce Mallinson founded what is now Pittsburgh Power after acquiring a small shop from an owner in Pittsburgh, Pennsylvania, who was relocating. Today, the business is focused on engineering improvements in the performance and efficiency of diesel engines for owner-operators and others all across North America, via a variety of products and services. Those include its Max Mileage Fuel Borne Catalyst, a fuel additive that promotes a cleaner burn that holds long-term implications for many emissions-systems issues that have been the scourge of many an owner-operator business over the last decade and a half. Find more about the company via its website.
Jeff Gray owns Gray's Garage, an independent diesel service shop in Pontiac, Illinois. Gray's father founded the business almost 60 years ago in 1963, and it remains in the family to this day. The shop specializes in truck repair, towing, recovery, heavy-duty truck service, tire service and more, serving Livingston, Grundy, McLean and La Salle counties southwest of Chicago. Find more about the shop via this link.
[Related: Heading off diesels' aftertreatment demons -- don't let high cost distract you from basic maintenance]