Trucking news and briefs for Friday, May 21, 2021:
Prepare for increased Memorial Day traffic, cargo theft activity
Cargo theft recording firm CargoNet says it expects a "significant threat" to freight transportation this upcoming Memorial Day weekend. Additionally, AAA Travel is anticipating a 52% increase in auto travel over the holiday weekend compared to a year ago.
CargoNet reviewed data from 2016 to 2020 for the Thursday prior to Memorial Day to the Wednesday after. There were 143 events reported with an average of 29 events per year.
Additionally, activity for the 2020 Memorial Day weekend increased 35% from the same weekend in 2019. The stolen cargo in each event was worth an average of $308,308 – due in part to five thefts that exceeded $1 million in stolen goods.
CargoNet says 20% of recorded thefts occurred on Friday, and a significant number of thefts also occurred on Sunday (16%) and Monday (15%).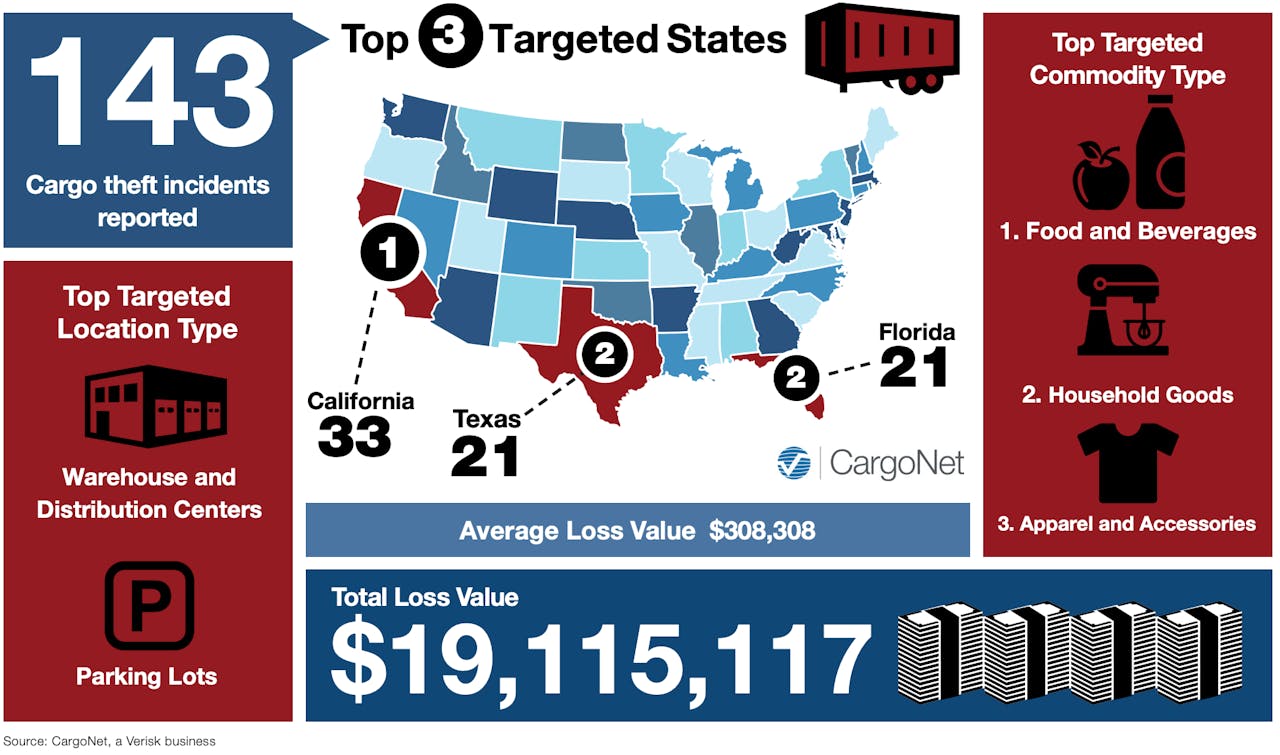 CargoNet has recorded 143 cargo theft incidents over the five previous Memorial Day weekend periods with California, Florida and Texas being the most active states.

Food and beverage items were the most commonly stolen, and cargo thieves targeted a wide range of products in this category. The most common were alcoholic beverages, seafood products, and meat products. Electronics were not a significant target in previous years, but CargoNet's analysts "are near certain that these goods will be targeted this upcoming holiday."
Of note, CargoNet has seen an "extreme risk" in transporting computer electronics shipments through California. Theft of these shipments increased 443% between September 2020 and May 2021 from the same period the previous year, the firm noted. On average, each shipment of computer electronics was worth $856,993 per full truckload theft and $246,566 per partial truckload theft.
CargoNet suggests those in the supply chain can mitigate theft of these shipments by arranging for same-day delivery of short-haul shipments, embedding covert tracking devices in the shipments, and using high-security locks to prevent trailer burglaries. Additionally, drivers should adhere to the "red zone" rule and avoid stopping within 250 miles of pickup. Drivers should also be on the lookout for any vehicles that appear to be following them.
Some noteworthy thefts from previous Memorial Day weekends include:
$5,700,000 in jewelry from a warehouse in Walton, Kentucky
$3,974,370 in pharmaceuticals in Clermont, Florida
$2,920,000 in cell phone accessories in Memphis, Tennessee (recovered)
$1,500,000 in tablets from a warehouse in Wilmington, Delaware
$1,200,000 in seafood from the port in Elizabeth, New Jersey (recovered)
As for increased traffic, AAA Travel said it expects "a significant rebound in the number of Americans planning to travel this Memorial Day holiday weekend."
The group says that holiday travel is expected to jump 60% to 37 million Americans traveling during what is considered the start of the annual summer travel season. Most of that will be on U.S. highways as 9 in 10 Memorial Day travelers will drive to their destinations. AAA says auto travel is expected to increase 52% compared to 2020.
Top road trip destinations for Memorial Day, according to AAA, include Las Vegas; Orlando; Myrtle Beach, South Carolina; Denver, and Nashville.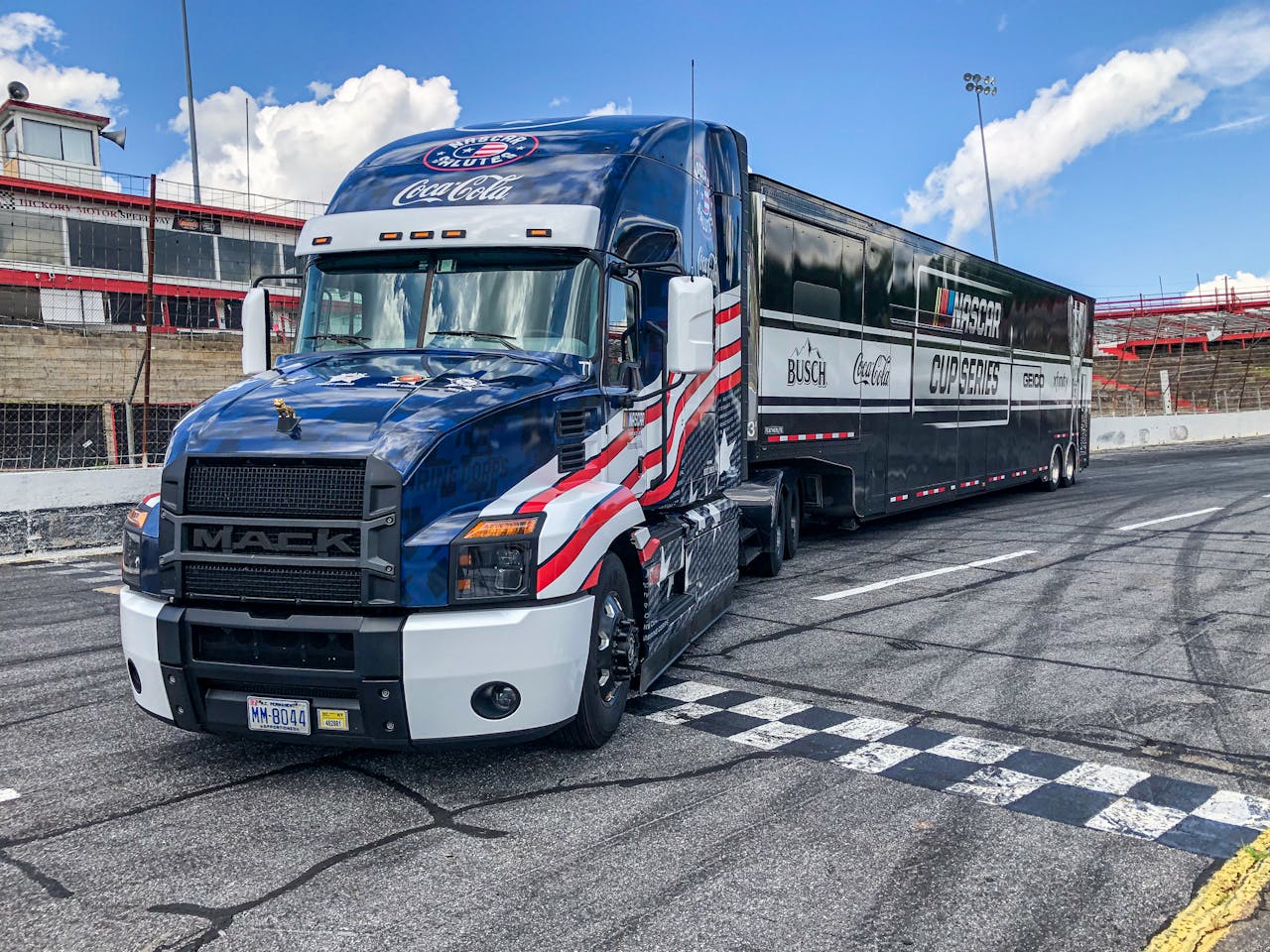 Military tribute NASCAR hauler unveiled | This Mack Anthem, featuring a custom-designed military-themed wrap, recently debuted as part of the 2021 edition of NASCAR Salutes Together with Coca-Cola. The annual campaign began the first weekend in May at Kansas Speedway in Kansas City, Kansas and continues through Memorial Day weekend at the Coca-Cola 600 at Charlotte Motor Speedway in North Carolina. It aims to express gratitude and respect for the men and women who serve in the United States Armed Forces and their families, as well as honor those who died defending freedom. "It's an honor for Mack to once again be a part of NASCAR's recognition of military heroes and their families," said John Walsh, Mack Trucks vice president of marketing. "This year's custom design is made even more special by the fact that it was chosen by NASCAR and Mack fans through a social media vote." The winning design, featuring the five branches of the U.S. Armed Forces, captured 46% of the more than 3,300 votes lodged for competing designs. As the "Official Hauler of NASCAR," Mack Trucks provides a fleet of 10 custom-designed Mack Anthem 70-inch stand-up sleeper models spec'd to meet the challenges of the NASCAR schedule. Each NASCAR Mack Anthem features a 505-horsepower MP8 engine and a Mack mDRIVE automated manual transmission.

New association for heavy truck and equipment maintenance pros
The new, North Carolina-based Repair ACES (Association for Commercial Equipment Solutions) organization announced its launch at the Diesel Laptops Virtual Truck Repair Expo, held May 7-8. The association has been created by industry professionals who saw a need and had a vision to be a resource and advocacy organization for heavy truck and commercial equipment repair and maintenance businesses. ACES Affiliate partners have already been established, with more planned. They will help provide a variety of benefits to the members. 
Corporate Members will include repair and maintenance businesses such as independent shops, fleets, dealer repair shops, leasing companies, mobile repair, and truck stops. Suppliers to those businesses are also welcomed to join as Allied Members.
Current benefits to the membership are designed to give more resources, help increase profits and convey knowledge. Already available are benefits that include parts discounted to national fleet pricing for any size operation, as well as expedited shipping on parts; rebates on diagnostics equipment; truck repair financing; website with no hosting fees; discounts on SEO and free reporting on Internet presence and effectiveness; free and discounted training; a free workplace safety platform; and networking opportunities. The association's own website is at this link. 
[Related: Live Q&A -- Dealing with diesel aftertreatment demons: preventive maintenance, repairs, more]
North Carolina partners with tech firm to send in-cab traffic alerts to truckers
The North Carolina Department of Transportation is partnering with a technology firm to provide in-cab communications to truck drivers in an effort to reduce the risk of commercial truck crashes.
NCDOT is partnering with Drivewyze parent company Intelligent Imaging Systems, a Canada-based company that provides innovative connected-truck technology.
The in-truck messaging provides real-time alerts of urgent road conditions. NCDOT says the alerts will help truck drivers react more quickly before encountering stopped traffic or major slowdowns. 
"We strive to let people know of unexpected traffic conditions," said Kevin Lacy, the State Traffic Engineer at NCDOT. "We're excited to be working with an industry partner that is using new technology. Truck drivers will be able to get advance warning of a major roadway incident before they see it on one of our dynamic message signs."
The department is contracting with Intelligent Imaging Systems to provide this service to truck drivers traveling through North Carolina. The first-in-the nation pilot will cover all 182 miles of Interstate 95 and the rural portions of Interstate 40 outside the Triangle, the Triad and Asheville.
The new alerts will have messages such as "Sudden Slowdown Ahead" and "Congestion Ahead" about 2 or 3 miles before commercial truck drivers encounter the slowed traffic or incident. Information will be in real time via INRIX, a leader in transportation analytics and connected vehicle services. These alerts will complement other notifications subscribed trucks already receive through the Drivewyze notification service.