Trucking news and briefs for Thursday, May 20, 2021: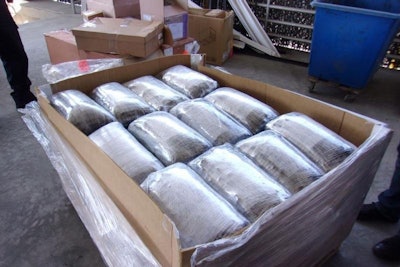 Trucker busted with large meth shipment at border
U.S. Customs and Border Protection officers in California intercepted a massive shipment of methamphetamine last weekend and arrested the 29-year-old truck driver.
Officers at the Otay Mesa Commercial Facility seized close to 2,500 pounds of methamphetamine concealed in a shipment of medical supplies. The bust occurred Saturday morning, May 15.
A statement from the CBP said a driver entered the facility at about 9:45 a.m. The cargo on the tractor-trailer was manifested as medical supplies. A team of CBP officers were roving through the lanes of trucks that had entered the port and were waiting for their inspection. The CBP said one of its officers targeted the truck, driver and shipment for a more intensive inspection.
The officer referred the driver, truck and shipment for an x-ray screening. CBP officers screened the truck and found anomalies within the cargo. The truck was moved to an inspection dock where a CBP officer with a canine screened the boxes of cargo. The dog alerted to one of the pallets of medical products. Officers unloaded the shipment and discovered 120 packages co-mingled with various medical supplies.
CBP officers unloaded some 2,425 pounds of methamphetamine, seizing the drugs and the tractor-trailer. The driver, a 29-year-old Mexican male, was arrested and turned over to U.S. Immigration and Customs Enforcement, Homeland Security Investigations. The driver is facing federal charges and has been transported to the Metropolitan Correctional Center.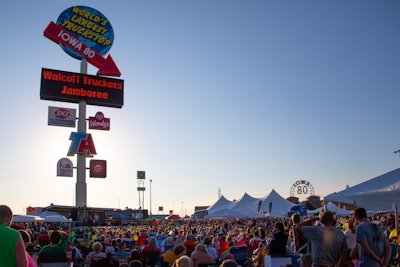 Walcott Truckers Jamboree concerts announced
Country music group Lonestar headlines a list of artists that will perform at the 42nd Walcott Truckers Jamboree, which will be held July 8-10 at the Iowa 80 Truckstop in Walcott, Iowa.
Lonestar is one of five acts lined up to perform at the truck show. The full list of acts includes:
Dani Lynn Howe & Band – Thursday, July 8, 5 p.m.
Casey Muessigmann (former competitor on NBC's The Voice) – Thursday, July 8, 7 p.m.
North of 40 – Friday, July 9, 5 p.m.
Lonestar – Friday, July 9, 7 p.m.
Mo's Garage – Saturday, July 10, 1 p.m.
"We are very excited to be back to an in-person event this summer," said Heather DeBaillie, Iowa 80's vice president of marketing. "Our large outdoor area is perfect for enjoying live music in the fresh air. The Walcott Truckers Jamboree truly is an iconic summer event and we look forward to seeing everyone and celebrating America's truckers."
In addition to the concerts, Jamboree attendees can enjoy the Super Truck Beauty Contest; antique truck display; Iowa pork chop cookout; vendor exhibits; Trucker Olympics; two fireworks displays; a 100th birthday party for Iowa 80 Trucking Museum's 2021 International; and more.
Admission and parking for the event, and the concerts, are free. Complimentary shuttles will be provided from the parking area to the event grounds.