Trucking news and briefs for Thursday, April 15, 2021:
DOE announces SuperTruck 3 initiative
The Department of Energy on Thursday unveiled two funding opportunities totaling more than $162 million to improve efficiency and reduce carbon emissions in cars and trucks. The funding will support the next stage of the SuperTruck initiatives – aimed at electrifying freight trucking – along with efforts to expand electric vehicle (EV) infrastructure and lower emissions for on- and off-road vehicles.
DOE's Office of Energy Efficiency and Renewable Energy (EERE) first launched the SuperTruck initiative in 2009, aimed at improving heavy-duty truck freight efficiency by 50%, while the follow-up SuperTruck 2 in 2016 sought to double fuel efficiency for Class 8 trucks.
DOE Secretary Jennifer Granholm called the efforts both urgent and exciting, by turns. "There is so much opportunity" to be created out of cleaner technology, she said, including increasing "America's share of the global clean energy market," directing "benefits into the communities that have been left behind." The urgency comes with her agency's prerogative to not "wait to wage full-out war on the climate crisis."
EERE's Vehicle Technologies Office (VTO) and Hydrogen and Fuel Cell Technologies Office (HFTO) are partnering on the SuperTruck 3 to offer up to $100 million in funding over four years to pioneer electrified medium- and heavy-duty trucks and freight system concepts.
DOE says the funding focuses on a range of approaches to electrification – all-electric, plug-in hybrid systems using renewable biofuels, and hydrogen and fuel cell technologies, including hybridization strategies such as fuel cell range extenders.
In addition to the $100 million available for medium- and heavy-duty truck development, VTO is also offering up to $62.75 million as part of its "Low Greenhouse Gas Vehicle Technologies Research, Development, Demonstration, and Deployment" initiative aimed at reducing emissions and increasing efficiencies for on- and off-road vehicles. Much of that additional money, Secretary Granholm said, will be directed to projects aimed at increasing "access to electric vehicle infrastructure," including challenging situations for charging stations.
All told, she hoped it would be a "powerful salvo in our war on the climate crisis ... to be able to bring these new technologies to bear for our people, our drivers, our freight and our jobs."
The application processes for the SuperTruck 3 initiatives will include two phases: a concept paper and a full application. Concept papers are due May 13, 2021, and full applications are due July 12, 2021. Applicants are required to submit a plan for achieving diversity, equity and inclusion objectives, including support for people from underrepresented groups in STEM, advancing equity within the project team, and producing benefits for underserved communities.
[Related: An emissions-system cautionary tale for new truck-tech development]
Arizona DOT beginning 2-year I-40 paving project
The Arizona Department of Transportation is starting a project to repave a 10-mile stretch of I-40 between I-17 and Walnut Canyon Road in Flagstaff.
During construction, portions of the highway will be reduced to a single lane. ADOT says drivers should expect slower traffic and delays, as well as some night work with on- and off-ramp closures while the ramps are being paved.
The project is expected to last two seasons with an anticipated completion date of fall 2022.
The work will include replacing the existing pavement in both directions of I-40 and replacing pavement on the on- and off-ramps at four intersections in the project area. Work will also include making repairs to bridge decks along the 10-mile stretch and repairing guardrail as needed.
TruckPark reservation system, in growth mode, to integrate with Coyote's freight platform
Broker Coyote Logistics reached a new partnership with the Broker Coyote Logistics launched a new integration with the TruckPark reserved-space aggregator for parking planning. The integration will enable easy access to TruckPark reservations for truckers working through the CoyoteGO digital freight platform.
TruckPark CEO Anthony Petitte noted that "over the past year, we have added more than 300 new locations and 20,000 overall spaces" to the network for which it helps facilitate reservations. Those spaces in large part are "coming from carrier terminals, hotels and off-airport parking facilities" opening up to outside reservations.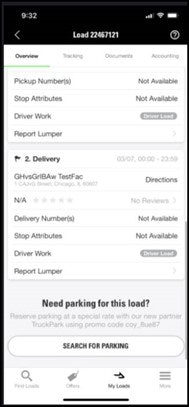 "Shippers rely on Coyote's reliable capacity to move their freight, and carriers rely on Coyote to make that process simple," said Pat Campbell, U.S. COO at Coyote. "By helping streamline [finding parking] for drivers, they can focus on making deliveries instead of searching for safe places to stop."
The Coyote partnership is the latest for the TruckPark company since teaming up with the FuelMe on-demand diesel fuel delivery service in January. Both services can now be booked through their respective smartphone applications to "alleviate the average 62 minutes it takes to wait for fuel at a truck stop" at peak hours of 4 p.m. to midnight, said Petitte.
"Think DoorDash for fuel," he added.
[Related: Roads 511: Highway information in real time]
Driver recognized for helping extinguish truck fire
Melton Truck Lines driver Kris Stauffacher, of Collinsville, Oklahoma, has been named a Highway Angel by the Truckload Carriers Association after stopping to help a fellow trucker whose trailer was engulfed in flames on the side of the road.
Stauffacher was heading north on I-45 near Alma, Texas, early one morning in September when he saw a truck on fire up ahead. He was working with a trainee at the time. They pulled over, and Stauffacher grabbed his fire extinguisher and ran to the scene.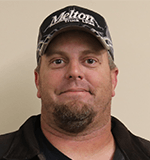 The trailer was nearly fully engulfed, Stauffacher said, and the truck's driver had already emptied his fire extinguisher on the blaze.
"It looked like the fire was coming from the drive tires." Stauffacher said. "They were starting to creep up on the sleeper. The flames went into the trailer and just ate it up. I asked the driver what he was hauling, and he said beer, so it wasn't anything hazardous."
The fire department arrived just a few minutes later and finished putting out the rest of the fire. The driver didn't appear injured.
"I was shocked by how many people just drove by and didn't do anything," Stauffacher said. "This is a well-traveled road. We could have maybe saved the trailer. The ironic part is that I've been a trainer for five-and-a-half years. I tell them (student drivers) if there's someone who needs help we need to stop. We have fire extinguishers and water and blankets on the truck. We can call for help and do more than just drive on. People would rather take videos on their cell phone than help. As a professional driver, 9 times out of 10, if there's an accident, normally we're the first ones on the scene because there's so many of us. That's someone's family member. It's not mandated, but I can stop and render some help."
For his willingness to help, TCA presented Stauffacher with a certificate, patch, lapel pin and truck decals. Melton Truck Lines also received a certificate acknowledging their driver as a Highway Angel.
New Love's opens in Alabama
Love's Travel Stops opened a new location in Mobile, Alabama, off of I-10 that adds 109 truck parking spaces to its network.
The store also offers a Bojangles restaurant, nine diesel bays, seven showers, a Speedco and more.
The Mobile location is the 17th Love's in Alabama.