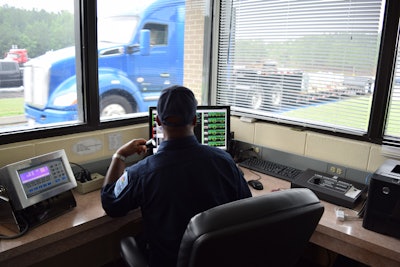 Trucking news and briefs for Monday, April 26, 2021:
Brakes and tires: Bendix's Roadcheck tips as inspection blitz set for May 4-6
Brake systems/brake adjustment can contribute to a range of issues that are easily averted through regular pre-trip inspections and preventive maintenance, the company said. Drivers should always conduct standard walk-arounds – pre- and post-trip inspections – before and after hitting the road. Look for visible problems such as loose hoses or damaged components like air chambers or pushrods, for example. Earlier, in the shop, air brake system inspections should include the following points:
Conducting a 90- to 100-psi brake application and listening for leaks
Measuring chamber stroke at each wheel-end to ensure proper brake adjustment
Examining friction for good condition and minimum thickness
Measuring/inspecting each rotor and drum for wear and heat cracking and/or leopard spotting
Brake friction is another essential component that should be checked for compliance, whether during maintenance or pre-trip. This means inspecting for issues including lining cracks, missing portions of the lining, oil or grease contamination of the lining, and compliant friction lining thickness.
[Related: Prime time for air disc brakes]
Bendix noted it recommends the use of remanufactured drum brake shoes that have been coined back to their OEM-engineered shape, as opposed to those that have simply been relined with new friction. Relining a shoe that's been exposed to the extreme force and temperature changes of normal use without having been coined can lead to reduced stopping power and premature wear.
Don't skip attention to tires, too, the company emphasized. CVSA's annual International Roadcheck tire inspections emphasize the importance of maintaining proper tire pressure: Industry research shows about 90% of tire failures can be attributed to underinflation, and nearly half of all emergency service road calls are tire-related. Excess wear and tear has been documented, and it can shorten the life of the tires: The American Trucking Associations' Technology & Maintenance Council estimates that 20% underinflation can shorten tire life by 30%.
Find further resources from the company via its On-Line Brake School, offering more than 90 free courses, including a curriculum covering the full spectrum of braking and active vehicle safety product topics. Additional online training resources from Bendix include the company's "Truck Talk with Bendix" podcast, available via most podcast platforms.
Melton driver named Highway Angel for stopping to help elderly man
Melton Truck Lines driver Ty Hinton has been named a Highway Angel by the Truckload Carriers Association for stopping to help an elderly man who had fallen next to a busy street.
Hinton was driving through Peoria, Illinois, early one afternoon in November 2020, on his way to pick up a load, when he saw an elderly man sitting on the sidewalk next to the street.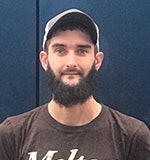 "He was fiddling around with a walker," Hinton said. "That threw up a flag in my head. I remember my grandma having a walker and falling and not being able to get back up. I thought about it for a second and decided I couldn't not go check on him."
He then made a U-turn at a stop sign and pulled up near the man, hopped out of the cab and walked over to him. The man told him he'd been sitting there for about two hours with the sun beating down on him.
"He'd gone out to get groceries and when he came back, he'd been walking too long," Hinton said. "He tripped on a little patch of mud and fell and cut his arm up on the sidewalk."
The man didn't have a phone or Life Alert. Hinton helped him get up and sit on the seat of his walker. He then gave him a bottle of water and a cold compress for his wrist to cool him down a bit. Hinton added that the man was borderline dehydrated by the time he arrived.
"I alerted the authorities and waited with him," Hinton said. "His son arrived before the paramedics got there and thanked me. He said he was so thankful that a complete stranger had stopped. But I did what I hope anyone else would do… it was a little upsetting to me that he'd been sitting there that long. In the 20-30 minutes I had been sitting there, so many cars went by and I thought, 'Wow, how did nobody see this guy?' It took me stopping a 70-foot vehicle to stop and help him."
TCA presented Hinton with a certificate, patch, lapel pin and truck decals. His employer also received a certificate acknowledging their driver as a Highway Angel.

Axele's TMS software system gets new fuel-card, expenses, ELD supports
Axele, a Transportation Management System company, has made significant enhancements to its carrier TMS platform aimed at truckload haulers. New features include fuel-card support, document upload, a new expense module and additional electronic-logging-device integrations.
With the new expense module users can add all company expenses (fuel/non-fuel) and the supporting receipts/documents in Axele. The module now supports IFTA and fuel card data imports as well. Various factoring Integrations allow carriers to better interface with top factoring companies to streamline payment processes through Axele.
Document upload enhancements allow for offline queueing of uploads, even when offline, so drivers don't have to wait for uploads to finish.
New ELD Integrations include those with J.J. Keller, Geotab, and TrackEnsure ELDs. As part of its updates, Axele has improved performance of its dispatch board, making it three to five times faster, the company said.