Trucking news and briefs for Tuesday, July 6, 2021:
Daimler recalling over 120k trucks for battery issue
Daimler Trucks North America is recalling more than 120,000 trucks for an issue that could cause a loss in electrical power and an unintended engine stall, according to National Highway Traffic Safety Administration documents.
The recall affects approximately 122,056 model year 2019-2022 Freightliner Cascadia P4, 2021 Western Star WH126, 2020 Western Star WJ121, and 2021-2022 Western Star 49X trucks in which the battery cable terminal may break, resulting in a loss of electrical power and unintended engine stall.
Dealers will repair or replace the battery cables, free of charge. Owners can contact DTNA customer service at 1-800-547-0712 with recall number FL-893. NHTSA's recall number is 21V-481.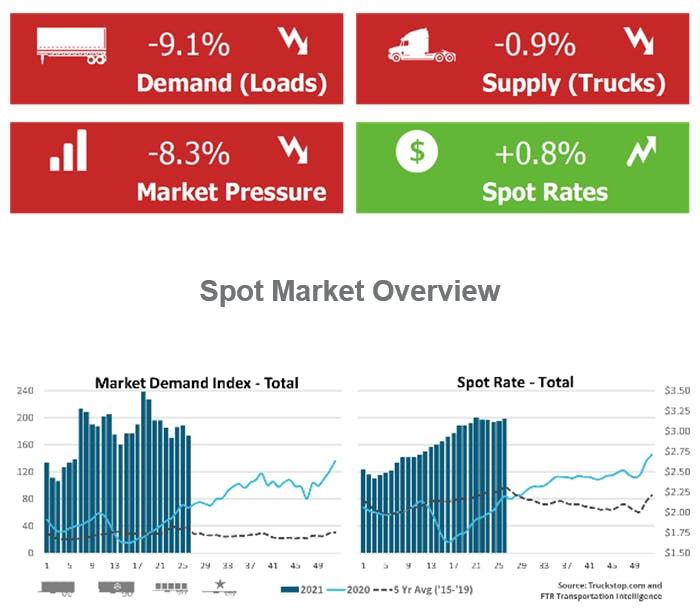 Spot market: Rates edge up though market overall cooled a bit last week on flatbed declines | Although a sharp decline in flatbed load postings held down spot volumes in the Truckstop.com load board system last week, spot rates rose in all segments as dry van and refrigerated rates were about 3 cents below the record high set five weeks ago. Total load postings fell 9.1%, even though volume for dry van and refrigerated both edged higher during the week in advance of the July 4 holiday. Load volume was more than double the same 2020 week, though that was the shortened July 4 holiday week last year. June traditionally represents the peak of the spot market with steady declines on tap starting in July, but that was not the dynamic last year and, FTR Transportation Intelligence suspects, is unlikely to be the case now. Given various stresses in the market – strong consumer demand, a recovering industrial sector, supply chain disruptions, and tight driver capacity – seasonal weakness is unlikely to materialize, at least not for van freight. Volume this week will be down due to the holiday, so it may take few weeks to determine whether any semblance of seasonality returns to the spot market.

Texas-based trucker recognized for helping at accident scene
Aaron DeSilva, a truck driver based in Midland, Texas, has been named a Highway Angel by the Truckload Carriers Association for stopping to help a young driver after a tractor-trailer clipped his vehicle, causing it to overturn and spin out of control.
Late one evening in March, DeSilva and his wife, Tiffany, were going through the West Memphis area on I-40 when DeSilva saw "a big flash, sparks and fire as something flew across the road in front of us," he said. What he saw was a car sliding on its roof.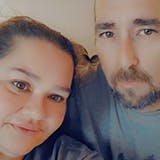 Aaron and Tiffany DeSilva"Another tractor-trailer looked like he was switching lanes, or maybe wasn't paying attention," DeSilva added. "He just came over the line and clipped the front of the car and spun it out and flipped him on his roof."
The other truck slowed and pulled over but soon left the scene. DeSilva pulled over and grabbed a fire extinguisher and jumped out as his wife called 911. He had to run across two lanes of traffic to get to the overturned vehicle.
"Cars and trucks slowed down long enough to look and then drove on," he said. "We were the only ones that stopped."
DeSilva rushed to the overturned car and pried the driver's door open. He found a young male driver, in his early to mid-20s.
"When I asked him if he was okay, his first words were, 'What did I hit?' I told him he didn't hit anything, a truck hit him. He was pretty shaken up," DeSilva said.
He then helped the young man crawl out of the smoking vehicle. He turned off the car's ignition and then moved the driver away from the vehicle and waited for first responders to arrive. The driver called his mother to let her know he had been in an accident. He handed the phone to Tiffany, and his mother asked if she and Aaron would stay with her son until she and her husband could get there. They agreed. The couple later learned the young driver had sustained several broken ribs.
DeSilva has been driving over 22 years and doing OTR for nearly eight years. He believes he and his wife were put in this situation for a reason.
"We had made a couple stops during the day which put us there at that particular time," he said. "My wife says everything happens for a reason. We were meant to be there to help him."
For his willingness to help, TCA presented DeSilva with a certificate, patch, lapel pin and truck decals. His employer, Melton Truck Lines, also received a certificate acknowledging their driver as a Highway Angel.
Groendyke announces second phase of driver pay initiative
Groendyke Transport announced late last week that it has increased pay rates for some of its drivers as Phase 2 of a larger driver pay initiative.
This second phase affects Groendyke drivers hauling refined and bio fuels, aviation gas and jet fuel, and asphalt, increasing their pay an average of 6% overall. It represents a $1.32 million investment, according to the company.
Coupled with Phase 1, which raised pay for the tank truck carrier's chemical and liquid petroleum gas drivers, Groendyke has now invested about $3.5 million in driver pay increases in 2021.
Details on a third phase of driver pay changes will be released in the coming months, the company says.
Cargo Transporters boosts driver pay
Cargo Transporters, a regional and national truckload carrier located in North Carolina, increased pay for its over-the-road drivers as of Sunday, July 4. It's the second driver pay raise this year; the first was in January.
Cargo Transporters increased solo driver pay 2 cents per Rand McNally practical route mile on all dispatched miles, increasing starting base pay to 52 cents per mile.
Team driver pay increased 1 cent per mile on all dispatched miles. Along with the rate per mile increase, the productivity bonus rose to 3 cents per mile, according to the company.