Trucking news and briefs for Monday, Dec. 13, 2021:
Certain Kenworth, Peterbilt car-haul and wrecker models recalled by Paccar
Just more than 900 model year 2019-2022 Kenworth T880 and W990; Peterbilt 567, 579 and 389; and 2022 Peterbilt 536 and 537 wrecker and auto hauler trucks are being recalled by Paccar for an issue affecting the work/winch brake, according to National Highway Traffic Safety Administration documents.
The winch brake in the affected trucks may unintentionally disengage the service brakes during winching operations, causing the trucks to roll.
The cause of the problem is described as: "Slight vehicle movement during winching causes the wheel speed sensor to detect vehicle movement. There is 'noise' in the wheel speed sensor at lower vehicle speeds, and erroneous values are communicated. These erroneous values exceed the speed interlock, causing the work brake to disengage."
Dealers will update the vehicle software for free as a remedy to the issue. Owners may contact Paccar customer service at 425-828-5888 (Kenworth) with recall number 12KWG or 940-591-4220 (Peterbilt) with recall number 21PBM. NHTSA's recall number is 21V-906.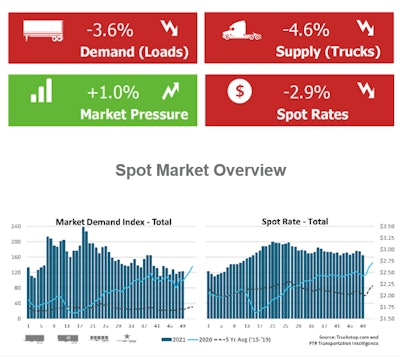 Wreaths Across America Day officially designated for 2021
The U.S. Senate unanimously passed a resolution introduced by Sens. Susan Collins (R-Maine) and Angus King (I-Maine) designating Saturday, December 18th, 2021, as "Wreaths Across America Day."
A convoy of volunteers will travel from Maine to Arlington National Cemetery to lay Maine-made balsam wreaths at the headstones of American veterans interred there.
"Wreaths Across America is a powerful demonstration of respect and appreciation for our veterans – both those that we've lost and those still with us," said Senators Collins and King in a joint statement. "We are so proud that this heartfelt expression of gratitude originated in our great state and has become an enduring symbol of our nation's gratitude for veterans' valor and sacrifice. This resolution remembers and honors America's veterans this holiday season, while also teaching younger generations of the sacrifices that have been made to secure our freedoms and to defend our liberty."
Thousands of volunteers are expected to lay the wreaths at the graves of each American veteran. In addition to Arlington National Cemetery, volunteers will place wreaths at 3,100 locations nationwide.
Women in Trucking seeks nominees for 2022 Distinguished Woman in Logistics award
The Women in Trucking Association, Truckstop.com, and the Transportation Intermediaries Association are seeking nominations for the 2022 Distinguished Woman in Logistics award. The award started in 2015 to recognize outstanding individuals for their achievements and leadership in logistics.
"Each year we look forward to recognizing exceptional women in the logistics field with this award," said Ellen Voie, president and CEO of WIT. "The impressive nominations are proof that women continue to elevate the supply chain industry."
Sponsored by Truckstop.com and TIA, the award is open to high-performing women in any field related to logistics, including supply chain management, third-party logistics, and trucking.
[Related: Introducing 2021's Queens of the Road, Trailblazer award winners]