Trucking news and briefs for Wednesday, Dec. 22, 2021:
Cargo theft threat increases during holidays
Cargo theft recording firm CargoNet is warning trucking companies and drivers that cargo theft has historically been higher during the 10-day holiday period from Dec. 23-Jan. 2.
According to CargoNet, during that 10-day period over the last five years, there were a total of 185 theft events recorded for an average of 37 events per holiday period. The average stolen shipment was valued at $151,199. Theft was highest during the 2016 holiday period, when CargoNet recorded 51 theft events.
Over the last five years, activity has been lowest on Christmas Day, but the two days prior accounted for 24% of volume. CargoNet noted that when the exact day of theft is not known, its statistics assume the event occurred on the first possible day in the range.
The analysis also showed a spike in theft on Dec. 23, Dec. 31, and Jan. 1 – which had the most activity of any other day in the analysis.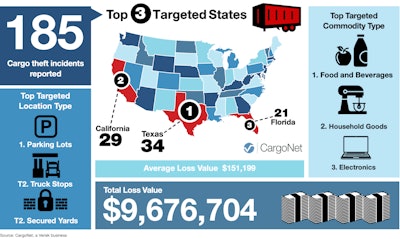 Theft activity was most frequent in Dallas County, Texas; Shelby County, Tennessee; Miami-Dade County, Florida; Cook County, Illinois; and San Bernardino County, California.
Cargo thieves most commonly targeted shipments of computer electronics, televisions, major appliances, and all kinds of alcoholic and non-alcoholic beverages, CargoNet found.
Going into this holiday season, CargoNet is most concerned about continued theft activity involving shipments of computer electronics, printer ink, designer apparel, beauty products, tires, and major appliances throughout the Southeastern and Midwestern United States.
CargoNet says trucking companies and others in the supply chain can step up security by arranging for same-day delivery of short-haul shipments, embedding covert tracking devices, and by using high-security locks to prevent trailer burglaries. Additionally, truck drivers should not leave their trucks or loads unattended, especially within 250 miles of pickup. Drivers should also be on the lookout for any vehicles that appear to be following them.
Heniff orders 10 Nikola electric trucks with plans to add 90 more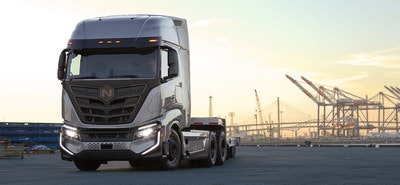 Heniff Transportation Systems has reached an agreement to initially acquire 10 Nikola Tre BEV trucks from Thompson Truck Centers, a member of the Nikola Corporation sales and service dealer network.
The agreement between Heniff and Thompson Truck Centers is a fleet-as-a-service model where Thompson will provide the sales, service, maintenance and energy infrastructure required to operate the Nikola Tre BEV trucks. Deliveries are expected to begin in the first half of 2022.
Upon the successful initial deployment of 10 units into their bulk transport operation, Heniff and Thompson have agreed to pursue the placement of an additional 90 trucks into Heniff's fleet.
"After visiting with Nikola's leadership team, touring the new Coolidge, Arizona, manufacturing facility, and taking a test ride in the Nikola Tre BEV, we were impressed by the power, performance, engineering and quality of the truck," said Bob Heniff, CEO of Heniff Transportation. "We see this partnership with Nikola and Thompson as a means to accelerate our strategy for electrification of our fleet and as a positive benefit for our customers, communities, employees, and stakeholders."
[Related: Cutting through the heavy-duty e-trucks hype]
I-515/US 95 reduced to one lane Thursday night
The Nevada Department of Transportation said SB I-515 (US 95) will be reduced to one lane between Casino Center Blvd. and Las Vegas Blvd. in the wee hours ahead of Christmas Eve day – from 12 a.m. to 5 a.m. – for pavement repairs. Drivers should expect delays during that time.
The construction project is part of the NDOT's $40 million I-515 viaduct rehabilitation project near downtown Las Vegas.