Diesel prices across the United States hit an all-time high during the week ending March 7, and prospects of any immediate relief at the pump are grim, as the Biden Administration announced additional sanctions on Russian energy imports after Vladimir Putin's invasion of Ukraine.
"The decision today is not without cost here at home," Biden said. "Putin's war is already hurting American families at the gas pump.... I'm going to do everything I can to minimize Putin's price hike here at home."
The Department of Energy's Energy Information Administration reported Monday that the national average for a gallon of on-highway diesel jumped by a whopping 74.5 cents over the week prior to an average of $4.849 per gallon, the highest since EIA began tracking average prices in 1994. The nation's previous high-water mark for diesel was set during the week ending July 14, 2008, at $4.764 per gallon.
The ban on Russian oil imports, which makes up approximately 10% of the U.S.' imported oil, is likely to drive prices at the pump even higher. Shortly after President Joe Biden's announcement Tuesday morning, Brent crude – the international benchmark – jumped 7.7% to $132.75 a barrel. Crude oil prices, which have a direct impact on diesel and gasoline prices, have risen steadily since Russia invaded Ukraine on Feb. 24, when Brent crude was $95.42 a barrel.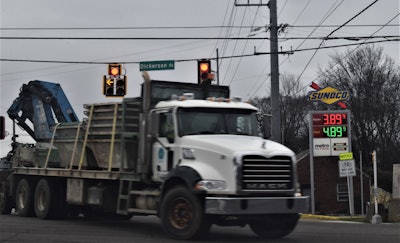 While diesel retailers are paying more for their fuel, Chris Lee, vice president of marketing for ProMiles, said he believes a lot of the increase in retail diesel prices is panic due to the uncertainty of how much retailers' next resupply will cost them.
"I attribute a lot of it to panic syndrome," Lee said. "There's so much uncertainty, and people are jumping as far as they can to the side of caution."
Retail fuel buyers themselves aren't averse to such panic, justifiable given the speed of recent increases. Midwest-based owner-operator Kevin Boynton took the dramatic step of canceling all the loads he was going to move next week, given they were pre-booked at rates that just wouldn't compensate for the quick spike in fuel prices.
Boynton runs Wisconsin, Minnesota and Illinois primarily, and "last week prices went up anywhere from 15 to 25 cents a day," he said. "I had work scheduled all through this week that was based on the prices of fuel two weeks ago, so this week I'm basically working for nothing."
Two weeks' worth of that was not going to cut it for his business, and none of his freight partners were interested in renegotiating with him. "Take me off those loads," he told them, "and I'll get back in a week and we can renegotiate."
[Related: POLL -- how are your rates keeping up with fuel/maintenance cost increases?]
With the U.S.' ban on Russian oil imports, even though it only accounts for 10% of the nation's oil imports, Lee with ProMiles said the severity of the impact on retail diesel could vary.
"The numbers bear out that it should have at the most a 10% impact, which would push us close to $5 a gallon," Lee said. "But is that going to be where it caps? It's hard to say," given that "prices are changing so often and so significantly."
The EIA, in its monthly Short-Term Energy Outlook released March 8, said its projections are "subject to heightened levels of uncertainty" due to a variety of factors, including Russia's invasion of Ukraine. With the price of Brent crude at $124/barrel at the end of the first week of March, EIA projected a March average of $117/barrel and a second-quarter average of $116/barrel.
While diesel prices shot up to $4.85 per gallon nationwide during the first week of March, EIA projects diesel prices to settle slightly over the next few months and average $4.43 per gallon during the second quarter of the year.
Lee said that while he wishes he had a good answer for truck owners in the near-term, the reality of the situation is that it's too volatile to predict how high fuel prices will go and how quickly they'll get there.
"Unfortunately, I think it's a wait-and-see game as far as where we end up and how fast it gets to where it's going to go," he said. "And more unfortunately, as we all are aware, [retailers] are quick to react when prices are going up, but not so much when they're coming back down. Even as some stability returns to the market, I think there's still a bit too much opportunity for the volatility of the prices to remain high."
To help ease the pressure of rising fuel prices as a result of the ban on Russian oil imports, Biden announced more than 90 million barrels will be released from the Strategic Petroleum Reserve this fiscal year, with an emergency sale of 30 million barrels announced last week. Lee said, however, that that's likely not enough to make a significant impact on pricing.
"The only way a release is going to make a significant impact isn't going to be drizzling out 30 million barrels at a time. It has to be something significant," he said. "But we have to be cautious about how much we're drawing out because we only have about a six-month supply in the reserve. In the grand scheme of things, it doesn't make a significant overall impact. It should theoretically help some, but it's hard to say how much."
While truck owners across the country saw significant increases at the pump over the last week, those in the Lower Atlantic and Gulf Coast regions saw the most dramatic increases, as diesel prices increased by 85 cents and 83.1 cents, respectively, according to EIA's weekly update released Monday.
California is still home to the nation's most expensive diesel at $5.759 per gallon, followed by the Central Atlantic region at $5.093 per gallon.
The cheapest diesel can be found in the Rocky Mountain region at $4.542 per gallon, followed by the Midwest region at $4.649 per gallon.
Prices in other regions, according to EIA, are:
New England – $4.815
Lower Atlantic – $4.919
Gulf Coast – $4.703
West Coast less California - $4.978
ProMiles' numbers during the week ending March 7 saw fuel prices increase by 25 cents, bringing its national average to $4.197 per gallon.
According to ProMiles' Fuel Surcharge Index, the most expensive diesel can be found in California at $5.172 per gallon, and the cheapest can be found in the Gulf Coast region at $4.04 per gallon. --Alex Lockie and Todd Dills contributed to this report.
[Related: Ukraine crisis likely to lead to 'sneaky' fuel price increases]