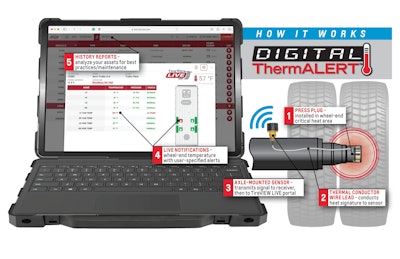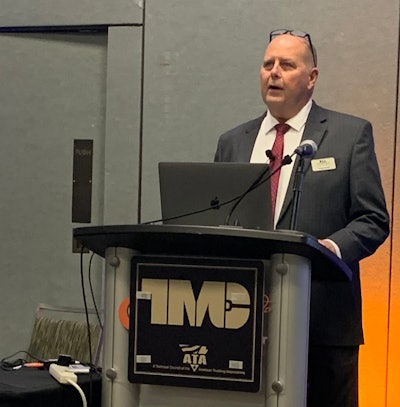 Pressure Systems International (P.S.I.), at the Technology & Maintenance Council Annual Meeting and Expo in Orlando Sunday, introduced Digital ThermALERT, a sensor that provides real-time trailer wheel-end temperature visibility through a telematics communication portal.
P.S.I.'s ThermALERT, introduced in 2005 and standard on P.S.I. ATIS products since 2017, alerts users to elevated wheel-end temperatures that could cause damage, wheel loss or fire, and excess roadside calls if not addressed early. Digital ThermALERT provides the same benefits of traditional ThermALERT plus full visibility of wheel-end temperatures thru P.S.I.'s TireView LIVE portal, or through one of their telematics integration partners like Clarience Technologies' Road Ready.
Craig Smith, P.S.I. marketing manager, said the real-time reporting from Digital ThermALERT aids in identifying the normal trailer wheel-end operating temperature of a user's equipment and the ability to analyze wheel-end history. It can also help identify equipment or maintenance issues, such as a dragging brake or bearing issue, that can be scheduled for service before damage occurs.
Digital ThermALERT is optimally located to read the temperature inside the spindle end at the wheel bearings and minimizes the effects of external thermal influences.
The sensor has a replaceable battery with a conductor wire that is fed through the axle end and attached to a modified spindle plug.
Original ThermALERT activates about 100 degrees above normal operating temperature, whereas the digital version gives fleets the flexibility to adjust alert parameters to their specifications or preferences.
P.S.I. on Sunday also introduced its updated ATIS/MTIS Driver Video, which explains system operation and what to do when the system indicator light illuminates. It's viewable on mobile via QR code or desktop. Available in the next couple months, a new decal with a QR code can be ordered from P.S.I. for retrofit placement on existing assets. New orders will receive an updated system decal with the QR code.
"It's more than just a video," Smith said, noting there is "a wealth of information" available, including the ability copy and send the link to colleagues.
P.S.I. will also launch its TireView LIVE mobile app April 1 on Apple and Android devices with all the features and benefits of the TireView LIVE portal. Via the app, fleet operators can drill down by vehicle type, terminal or region and get help with pre-trip tire inspections and post-trip analysis. Convenient OTA updates and sensor pairing is enabled by capturing sensor QR codes using a mobile device camera.