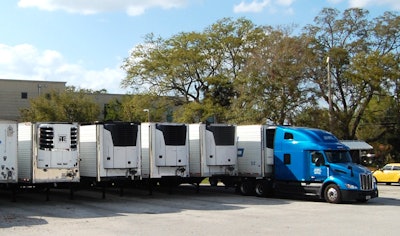 When the electronic logging device mandate brought digital tracking and automated elements of time-keeping into the cab of most owner-operators' trucks, it also brought opportunity for added functionality. With a connection directly to the truck's electronic control module (ECM), many ELD providers are today functioning as telematics systems for owners, delivering not only the hours of service record-keeping functionality required by the mandate but valuable vehicle-performance insights.
In-cab telematics and trailer telematics systems scored fairly low on the cost-benefit measures derived from Overdrive's State of Surveillance survey responses, with both generally earmarked as more costly than beneficial by respondents who used such systems. Yet few reported using such dedicated systems in the truck (17%) or trailer (15%) beyond use of an ELD system, likely given some similar benefits derived..
Small fleet owner Chris Porricelli, Overdrive's 2022 Small Fleet Champ in the 3-10-truck division, however, doesn't employ ELDs in his small fleet of gliders. He relies on Thermo King's TracKing trailer telematics system. He adopted the system to obtain a real-time, back-office window into reefer-unit performance among his several owned trailers. Through an online dashboard and/or an app on his phone, "now I can monitor all the temperatures of all the trailers and how fast they're going, and when they need fuel," and more, he said. "You name it, it tells you what the trailer's doing. And that has been a huge help, because sometimes I'm able to tell a driver there's a problem before he even knows."
[Related: A new era for CAP Trucking, 2022 Small Fleet Champ]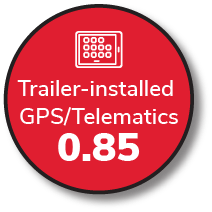 Setting up alerts to potential issues are part of the system. "When you set up the alerts as the owner or dispatcher," Porricelli said, "you can set it up to email or text specific people." An operator with a dedicated trailer might be appropriate to include on the list for the alerts, but Porricelli covers most of his trailers with alerts to himself and his dispatcher. If she's working, she is the default party responsible for acting on the alert if need be. Otherwise, he handles it.
While his fleet doesn't get a lot of cargo claims, prior to adoption every time they did "you'd have to drive to Thermo King to get a download to prove where your set point was and what your return air was for the load," said Porricelli. "Number one, you've got driver time, fuel, truck wear and tear. You get to Thermo King, you have to wait for them to plug in and print it out, email it to you. They charge you about $160 give or take. Half the time, if you're in the right, the customer will reimburse you the $160, but I can't bill them an extra $200 for my driver's time and fuel."
The program costs him a fraction of that, about $30 annually per-trailer. "I'm able to get a download whenever I want, from any trailer," he said.
Most reefer manufacturers, among other vendors, offer such a program, as he notes. "Carrier has theirs. ... There's a third-party company called iBright" he calls "very thorough." ELD suppliers such as the Motive company offer similar services for reefer trailers. "There's some cool features with this stuff now that can really help protect the trucker," Porricelli said, "that I think if you are willing to spend the money -- which it's not a lot -- it's a big investment in the long term."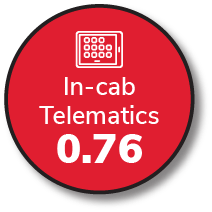 Such "remote diagnostics" programs -- monitoring all systems of a tractor or trailer -- may feel recent in their market introduction, but using sensors to keep track of a vehicle's condition has existed in both automotive and heavy-duty trucking sectors for decades.
Some of the first remote diagnostics systems to make their way into trucking were tire pressure monitoring systems, created to inform fleets and operators when an under- or overinflation event was occurring in tires and enable them to correct the issue before a tire got destroyed, fuel economy tanked, or the worst possible outcome eventuated -- an accident.
Tech grew from there. Every Class 8 truck maker now offers some type of comprehensive remote diagnostics platform on their new trucks. As Porricelli's example makes clear, trailer makers and component suppliers also are actively bringing new telematics solutions to market with every passing year.
While systems vary in design, they all do the same thing -- keep owners up to date on the performance of the equipment.
Benefits flow from reduction in maintenance-related downtime
For Overdrive's 2022 Small Fleet Champ in the 11-30-truck division, John McGee Trucking, use of Mack Trucks' GuardDog Connect system is all about increasing uptime for the fleet and its 20-plus drivers.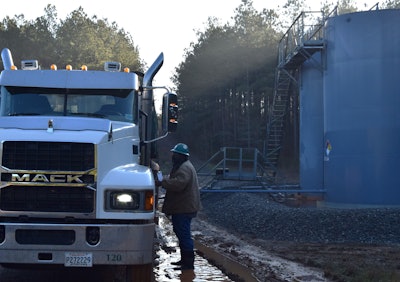 The GuardDog program is one part of an equipment strategy aimed to "eliminate as much downtime as we can."
He put that strategy in place to grow several years ago with an aim to keep the fleet under warranty with a fairly quick trade cycle. Working with the Tucker's Truck dealer in El Dorado, Arkansas, a half-hour up the road from his Simsboro, Louisiana, headquarters, when a problem is detected via the GuardDog Connect system, "Mack calls us and tells us," owner John McGee said. "They'll call us and say, 'Your truck threw this code,'" he offered as an example, sometimes putting in a part order to ready pick-up at Tucker's Truck to fix the issue, depending on what it is.
"About half the time they'll call me even before the driver calls me," McGee said. "I'll call the driver and say your truck's having this or that issue."
The driver: "How did you know?"
"That's Big Brother for you," McGee quipped.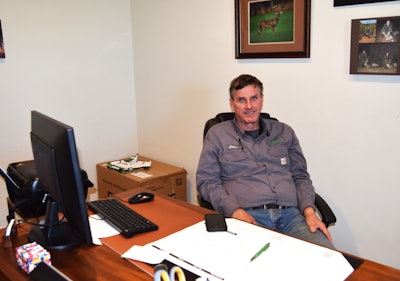 Using manufacturers' diagnostics systems, Small Fleet Champs McGee and Porricelli might be outliers to an extent. According to a February survey of more than 400 owner-operators and fleet professionals by Overdrive sister magazine CCJ, only 15% of respondents claimed they operated any trucks equipped with a telematics technology that is not an ELD, a number similar to what Overdrive found in the State of Surveillance survey.
Among fleet responders to the CCJ survey, the number rises to 37%, but it's still lower than one might expect. Remote diagnostics systems have been standard on new equipment for five years or more from some OEMs, and system-specific solutions (like those tire-pressure monitors) for much longer.
Less than half (44%) of all non-ELD telematics users taking the CCJ survey indicated they subscribed to OEMs' remote diagnostics system and planned to keep it when the initial subscription ends. Almost an equal amount (38%) said they had already let their subscription expire; the remaining 19% percent are subscribed but intend to let their subscription lapse.
Why?
44% said they have other processes in place and the OEM solution was redundant.

30% claimed the system was "too expensive for what it does."
19%: The system didn't integrate with other platforms/portals.
15%: Provided information wasn't helpful.
11%: Too many emails/alerts.
These are all issues truck OEMs are working to address. They want the systems to be used.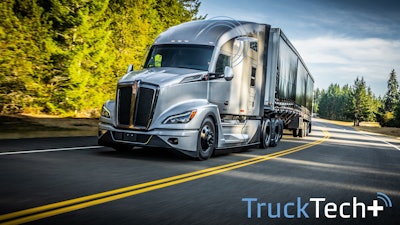 Kenworth Connected Services Marketing Manager Brandon Singh said the value of remote diagnostics and telematics products can be found in any customer vocation, particularly those who find value in fault code notifications and OTA updates. "We have seen success with both on-highway and vocational customers," he said.
Kenworth new-truck buyers receive two years of the company's TruckTech+ remote diagnostics at time of purchase and are offered the chance to extend the package (from six months up to 60) at that point.
In cases where a subscription expires, the company also offers 12-month subscriptions that can be purchased at any time through the Paccar Solutions portal.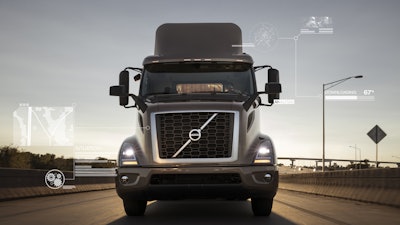 Volvo also offers two years of remote diagnostics with the purchase of a new truck and says customers can access remote diagnostics and programming with the company's new Volvo Blue service contracts.
"Volvo wants our customers to have peace of mind, knowing they have proactive, OTA updates coming to keep their trucks running as efficiently as possible," said Chayene De Souza, product marketing manager, Safety & Services. "Through remote diagnostics, recommendations on service can be made, which may prevent costly unplanned service stops later down the road."
De Souza noted Volvo Trucks North America has more than 200,000 trucks subscribed to its remote diagnostics solution. In growing that number, De Souza said small- to medium-sized fleets have been most open to extending their introductory subscriptions.
I
nsurance implications for telematics use: How John McGee, eventually, will save a bundle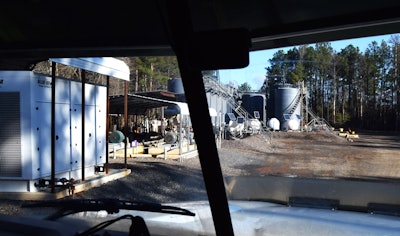 John McGee Trucking, working largely locally and hyper-regionally in the Northern Louisiana oilfield hauling production water in tanks, doesn't use the ELD part of its Samsara telematics hardware and software, which includes road-facing cameras in all of the company's trucks. Its company operators are by and large home every night, are paid hourly, and range in annual income between about $70K at the low end to well more than $100K at the top, as noted in Overdrive's recent profile of the fleet.
McGee went the route of the Samsara telematics system for this central reason: Reining in insurance costs. In 2019 he joined a captive insurance program administered by the eMaxx company. eMaxx and McGee office staff use safety-scoring metrics for each McGee operator and deliver safety bonuses in part based on that scoring. With the new system fully in place as of last year, speeding events are monitored along with other driving performance metrics. McGee tripled his monthly safety bonus to operators as a result.
McGee and company configured the scoring system to the fleet's and driver's needs. He described speeding events' affects on a driver's score as highly dependent on a driver's awareness of/attention to local limits. While the interstate limits in his area are as high as 75 mph and all his trucks are limited to 74 mph, lesser roads are those these operators travel most. "The majority of our roads are 55" for a limit, he said. Drivers have 36 seconds after they pass into a new speed-limit zone to start slowing down to avoid getting dinged on their scoring.
Quirks in the way the scoring with eMaxx works necessitated the fleet getting more directly involved in allocating the scores to the right driver, given the telematics system assigns all of a single truck's events to the truck, not the driver. Given the 24/7 nature of the business, more than one driver uses a single truck on any given day.
McGee empathizes with some aspects of drivers' initial frustration with the system. "Shreveport is the biggest city that we go through," he said, and there's a short stretch of interstate through the city where the speed limit drops precipitously to 50 mph. Yet as he well knows, "If you're doing that speed, you'll get run over" by impatient, high-speed four-wheeler traffic.
Coming into the low-speed area, furthermore, most drivers will have their cruise set on 65 and even then probably slower than the general flow of traffic. And now "you're going to get pinged on a two-mile stretch of road at 50 mph" for a speed limit, McGee said. "And if you slow down to 50 you'll get run over."
He gets it, he gets it. Yet, he feels drivers well understand the benefits, too, and he's not shy of explaining them. Working with the eMaxx captive program as a part of a group of around 50 similarly situated fleets, McGee will reap the rewards in insurance costs, though it hasn't materialized just yet.
"Every year our insurance has gone up," he said. "From 2020 to ... when we renewed in 2022, it went up almost 35% with zero claims. It went up just a little bit last year, and this year it's supposed to stay the same," marking the end of the third year as part of the captive program. For the fourth year, he added, "we'll start getting credit on our safety," worth as much as 40%. "Starting next year we can start recouping" with the discount, he said.
Savings will deliver better profits, further growth opportunities, and, perhaps most important for McGee, ability to continue to deliver for the company's employees, particularly its operators.
Podcast -- Truckers 'canaries' in the tech mine: Inside story around 'Data Driven' book on ELD mandate, rise of 'new workplace surveillance'
Video monitoring, in two parts:
**Can AI transform the prying eyes of in-cab cameras for the better?
**In-cab and out, camera options expand amid push-pull of privacy concern, regulatory attention
ELDs/smartphones and location tracking -- Broker intrusions on the rise with ubiquitous location tracking capability
Truck and trailer telematics -- Telematics beyond ELD systems: Promise, redundancy and real expense/uptime benefits
Data mining -- The third parties following you around freight networks: Brokers looking more like carriers with 'data driven' decision-making
Smartphones/GPS -- Counterpoint to some truckers' tech reticence: 'If you use a smartphone, you embrace it'
Roadside inspections -- 'Nothing to hide, nothing to fear,' right? Get ready for Level 8, automated inspections
Podcast -- FMCSA offering 'kinder, gentler' approach to safety scoring? Not if automated inspections go live