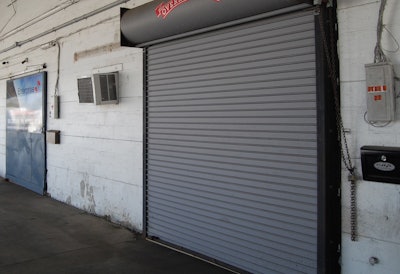 It was nigh on the end of an era for CAP Trucking, Overdrive's 2022 Small Fleet Champ in the 3-10-truck division, at the end of February earlier this year. Owner Chris Porricelli had been headquartered at the location you see above since 2011. The bay door opens on a warehouse space for parts storage, an electric pallet jack for moving freight in and out of and repositioning multi-temp refrigerated trailers, a small table set up for a desk Porricelli was using less and less in favor of a home office for himself and, occasionally, his dispatcher and fuel-tax preparer, Desiree.
"Guys leave their bills for whatever freight they leave in the warehouse here," he said, pointing to a small stack of papers. "I've been going through all the parts in here knowing we're kind of moving out."
Porricelli, who turned 36 in February, was laying the groundwork for a combination of his five-truck fleet with around 30-truck JT Carriers in Sorrento, Florida.
Said JT Carriers Owner and President Seth Keck, "I think Chris was looking for growth" in business generally, "and JT was there to help. In essence we came together to try to merge." Opportunities Keck sees with Porricelli and the CAP operation on board include possible expansion of JT's current 45,000-square-foot facility with 10,000 feet of cold storage, a "true LTL facility," likewise its freight brokerage, given Porricelli's long work with a core of independent owner-operators.
Porricelli is likely to bring plenty new collaborative avenues for "inbound freight," Keck added, "some cross-dock avenues" to new business, and more.
It's no doubt an exciting time for Porricelli, and as noted in this story, published last week with Overdrive's announcement of the 2023 entry period for carriers in the Small Fleet Championship, Porricelli's enjoying new opportunities for support, growth and more.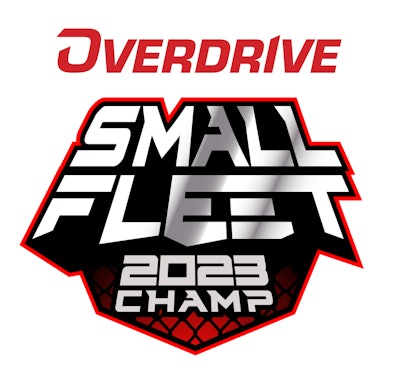 JT Carriers "goes all over" in terms of its outbound lanes, Porricelli said, while CAP's focused principally north-south along the East Coast. "Their primary northbound lane is nursery and tropicals. Ours is produce. This will offer my guys [and Keck's] more options in our summer slow seasons. ... This could give [CAP] some diversity with lanes to Texas and elsewhere."
When it comes to managing the day to day, Porricelli hopes he can be a safety valve for Keck, and vice versa. Keck feels Porricelli will be a big asset to JT Carriers' brokerage, as noted, with direct LTL business.
Maybe, just maybe, Porricelli adds, the hectic nature of running any small fleet business can be just a little less so for both men.
"Take some of the weight off our shoulders when needed," he said, "enjoy life a little more."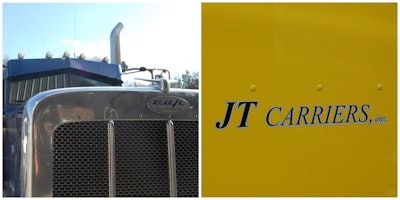 Porricelli leaves behind a decade-and-more legacy at the near-century-old place of business in Sanford, Florida. It was once the Sanford Farmer's Market, and "used to be state-owned," Porricelli said. "In the 80s and 90s this place was bumping with produce."
CAP rented from the state initially there for a cool $75 a month for the approximately 750 square feet of warehouse space. The old farmer's market, now in private hands, also houses the local food-service delivery operation of the Sanwa Food Group in addition to CAP. Several local owner-operators pay to park in the big lot as well.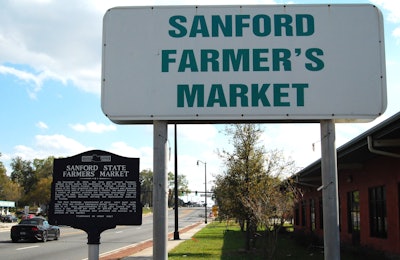 Porricelli noted he used the dock at the location more than the actual warehouse, really, repositioning freight for LTL loads from businesses among his direct customers in and around the greater Orlando region. Several newer multi-temp trailers that he'd recently outfitted with running lights and trim paint were on-site, but a plain-jane reefer sat empty, backed into the dock at the ready. "Our storage trailer," when needed, he explained. "We use it locally," too. "I haven't done anything to it, and it might run the best" out of all the trailers.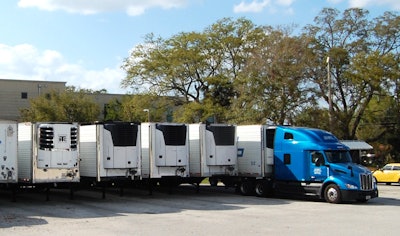 [Related: 'It came with work': CAP Trucking's flagship 2003 Peterbilt 379]
Recent moves follow a tough trucking year in 2022, but a joyous one for Porricelli -- he and his wife, Lauren, closed the deal just over a year ago in Spring with a wedding in their backyard.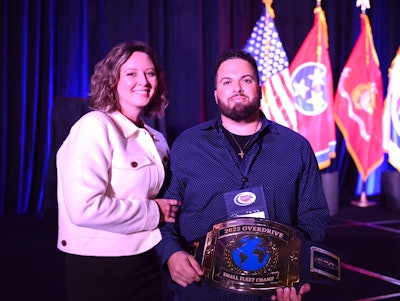 For their anniversary this year they went on a cruise in the Bahamas. "We didn't go on a honeymoon last year," said Porricelli, given everything going on.
At their house, 15-20 minutes from the JT facility in Sorrento, the father and mother live with their young child, Chris's former ridealong dog JoJo, a two-bay garage/shop built within the last year to house Chris's personal '03 Pete and much more besides.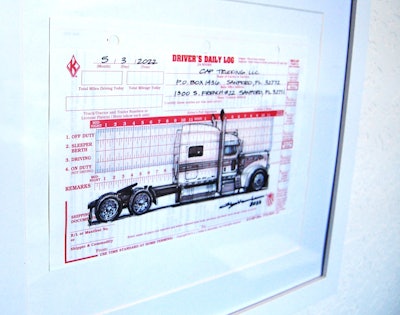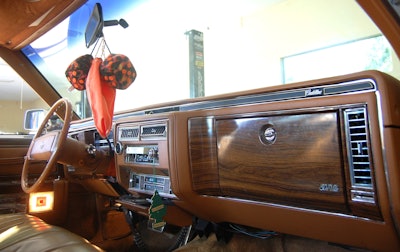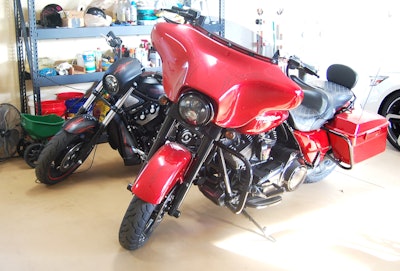 With any luck, Chris and Lauren might enjoy those toys more as the merger with JT Carriers solidifies.
Seth Keck has built "a beautiful business that's well established," Porricelli said. "It has its own shop and mechanics, warehouse personnel, docks, office staff, dispatchers, billing," and more. "As they should, for the quantity and volume they produce."
Porricell met owner Seth Keck around 8-9 years ago, he said. JT Carriers was founded by Keck in 2006, alongside his father's long-running Jack's Tropicals nursery.
"Seth started a trucking business that encompassed a lot of nursery," Porricelli said. "He consolidated freight" from nurseries around the region, trucked it out. When Porricelli met him he had "maybe 15-20 trucks and he started buying a lot each year and grew from there." At one point he "got close to 40 trucks, then dialed it back to 30, with a few in-state trucks and the rest over-the-road." Like CAP's rigs, "the fleet is all gliders, all very good-looking" with variations in paint scheme and some with plenty more custom work put in. Keck's "been known to run a very keen operation."
JT Carriers was in a smaller location not far from their current one when Porricelli and Keck first met, but quickly outgrew it.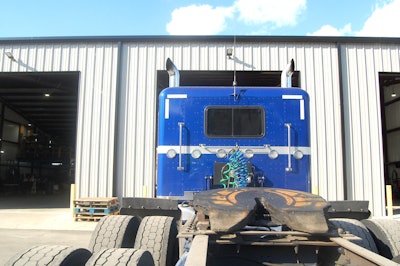 With the addition of CAP's trucks, Keck puts the fleet at 35 power units today.
Porricelli doesn't remember exactly "how I met Seth," but he recalls a time he was "starting to get into some plant hauling" himself and "needed decking supplies for the trailer. I wound up purchasing some from him."
Keck recalls, too, "I did try to get him into the plants for a while."
Over the years, the pair had drivers and former drivers employed in common, and "add in social media and being very close geographically," Porricelli said, "we kept it cordial" and would "run into each other a handful of times through the year and that was it."
Today, it's safe to say Keck's got a solid partner in Small Fleet Champ Porricelli, and vice versa. Here's wishing the best to both as they move forward in a difficult time for trucking, generally.
Together, Keck said, "the direction we're going is trying to broaden our horizons, and see if there are different avenues we can target."
To date, Porricelli said, outside of drivers, leased owners and the independents he works with regularly, "I'm pretty much a two-man show, with me doing the majority -- Desiree with dispatch and fuel taxes."
With JT Carriers, "It will be nice to have some extra hands in the mix," he said.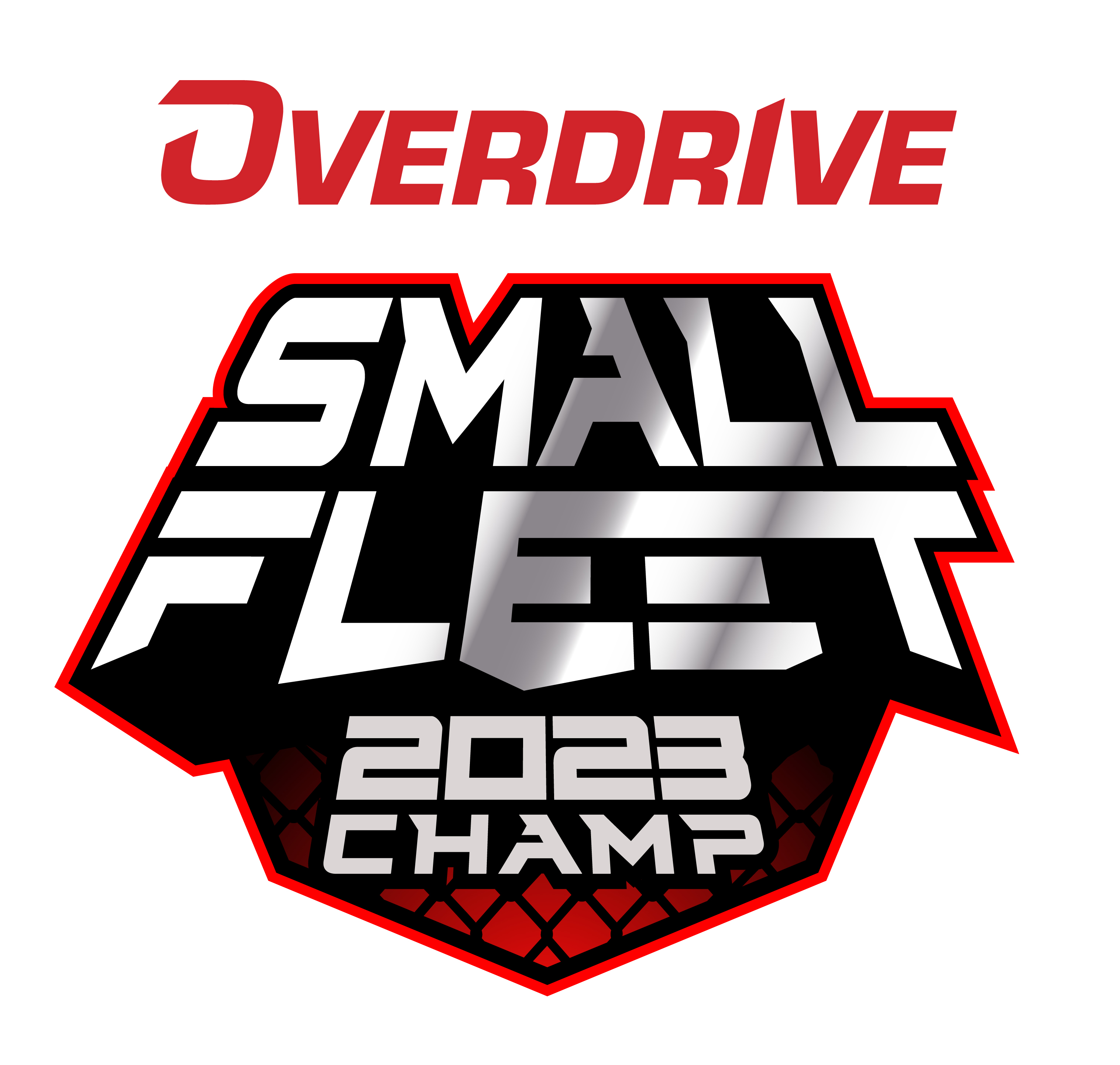 Compete with the best for Overdrive's 2023 Small Fleet Champ awards
Do you have what it takes? Enter Overdrive's 2023 Small Fleet Champ competition to put your small trucking company in the running to claim the vaunted title belt. Fleets with authority operating 3 to 30 trucks through 2022 year-end are eligible.