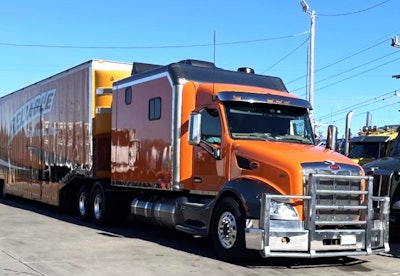 Previously in this two-part look at road- and driver-facing camera tech: Can AI transform the prying eyes of in-cab cameras for the better?
The last time Wisconsin-based Hallahan Transport small fleet owner Rob Hallahan priced out earlier versions of Motive's cameras, minus newer AI-driven capabilities, he recalls a figure around $25-$30 monthly per unit, though he noted it's been years. In fact, ever since he tried that camera out and wasn't satisfied with its performance, he's tried to get his hands on Motive's newer generation of camera equipment, including as recently as six months ago, to no avail.
With the exception of that first trial, he's been told cameras were on backorder every time. He's been looking around "to find different dashcams you can use and control from your computer at home," he said. Motive, already his ELD provider, seems the obvious choice, and particularly since they're "always marketing their cameras. I know other people that have them." Motive representatives did not respond to queries about current availability in time for this story.
Hallahan wishes he "had them last week," he said, speaking in late June. His brand-new 2023 Peterbilt 389 -- a project truck with custom work by Semi Casual and less than 40,000 miles on it -- was hit in an otherwise wide-open parking lot as the rig next to it pulled out.
"This guy creams the truck," Hallahan said. "I've seen somebody catch a bumper, but we had to get a crane to get him off our truck." He'd hit Hallahan's rig with his trailer. "The hood came all the way off. The steer tire was three feet under the guy's trailer. He took the air breather off the side" of the rig.
The Motive camera's footage, had Hallahan had it, might have served as added insurance, though the wreck was pretty well an open and shut case for the police that arrived. If he does get his hands on a cam, Hallahan won't configure them to use the interior, driver-facing part of the system.
Abhishek Gupta, head of product for fleet management with Motive, noted that driver-feedback and privacy features are built into its dual AI Dashcam in some ways similar to the MobileMule product featured in the video at this link, with configurations that can capture video only when a driver's within the duty day in their hours of service, or only when driving. "We want to have as much accident reduction as possible" among customers, he said. "Video and AI can help."
It's not only inside the cab where options are expanding, furthermore. Motive recently intro'd its AI Omnicam multicamera system to supplement the dual AI road- and driver-facing AI Dashcam. With multiple cameras that can be positioned in a variety of places (along the sides of the truck, at the rear, inside the trailer for security), further development, the company said, may also be able to deliver visibility to operators in-cab into blind spots and the like.
Landstar-leased owner-operator Willie Flores Jr. today runs a FalconEye four-camera system on his 2019 Western Star with two forward-facing cameras and two mounted on the fenders facing outward toward the rear of the truck down the side.
"We don't like the cameras facing us," he said, "but cameras [facing the road] have saved a lot of truck drivers in court when they do have cameras mounted toward the back and the ones facing toward the street view. Those have won a lot of court cases."
Philip Hankins, too, who drives team with his wife Shelley leased to enclosed-car-hauling fleet Reliable Carriers out of Canton, Michigan, owns a 2017 Peterbilt 579. Through Reliable, he uses the Motive Driver ELD and their road-facing dashcam.
Like Flores Jr., Hankins is in the process of installing the FalconEye system on his truck (pictured) to get a more comprehensive record of what's happening around him. "It eliminates questions" surrounding accidents and other things that may happen out on the road, he said.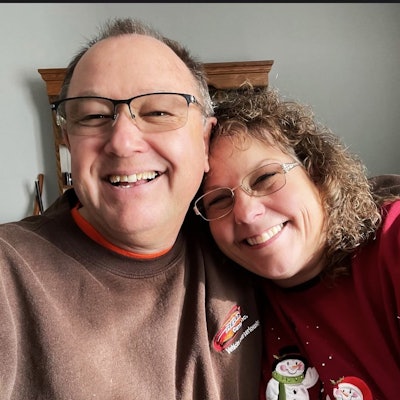 Motive's Gupta is not a truck driver of any sort, but he does use the Motive dual camera in his car, and feels that the live feedback has changed his behavior in some ways, particularly when it comes to resisting the urge pick up the phone. As with the MobileMule system, Motive's AI dashcam detects eyes not focused on the road -- "Please keep your eyes on the road," the system says when it detects you've looked away unsafely, perhaps picking up that smartphone. "I genuinely feel that it's changed my own behavior," particularly with regard to phone use, said Gupta.
Some fleet customers, he said, have seen as much as a "75% reduction of cell phone use" with adoption of these features.
Owner-operator Ron Henrie, with his 30 years trucking, believes he doesn't need such help. "I don't do a lot of late-night running. I have trouble staying awake and I know that," he said. Instead, he plans his trips to avoid late nights and truck parking deserts. He takes his safety seriously, and isn't looking for AI's help.
Furthermore, fleets and tech companies are asking drivers to adopt this technology at a time when the general public works increasingly from home, away from any kind of monitoring. Also, those same four-wheelers, assuming they drive a car, got demonstrably worse at driving during the pandemic.
A friend of one of the authors of this story works in digital marketing, mostly freelance. He quotes jobs as taking two weeks, even when he knows it will probably take him two days, maximum. Companies that buy digital marketing know there might sometimes be a bit of markup when they hire freelancers, so they install tracking software on his computer that makes sure he's actually working. Or, that's what they think the software does.
In reality, he opens the Notes app on his Macbook laptop, puts a baseball on his keyboard, and walks away. The company knows only that he's typing – his baseball is, anyway, in this case a single letter millions of times for hours – and figures all's good.
Karen Levy's "Data Driven" book explores similar efforts at circumvention of various workplace surveillance attempts in trucking -- they're often just that, attempts, easily worked around by anyone so motivated.
Jay Foster, a company driver for Indiana Western Express, has had his CDL since 1987, before it was called a CDL in fact. He eventually became an operations manager at a trucking company. That experience gave him a less individualistic view of the business.
"I feel bad because [back in his old position] I spec'd a couple trucks with automatics, and now I'm driving one too," he joked.
Foster's company has Omnitracs telematics on all their trailers, and even some high-tech perks he enjoys, like a "panic button" that immediately alerts fleet management to any trouble on the road.
"If you're ever having any kind of trouble, just hit the panic button and it blows up everyone's computer from dispatch to safety, to address it right away," he said. As someone who has been on the other end of those panic texts, he appreciates seeing response from management. His current driving job is Foster's first with an ELD, and it's quite a stretch from his days hauling cattle and oversize loads. He's seen insurers try to force driver-facing cameras on fleets, and at a previous fleet where he worked in management -- he said he was even ready to resign if they forced the change.
But now he's thinking about it differently. He's filmed by an in-cab, driver-facing camera today, and truth be told, he doesn't mind that much.
"I was a little hesitant, but I like the positioning of it," he said. "It just looks at the driver going out the side," he said. A camera in that position likely isn't AI-enabled to pick up on all eye movements and the like, but it gives him peace of mind that his life further back in the sleeper isn't on camera.
When going through orientation, he made his trainers prove to him the camera really went offline when it said it did. Satisfied with their explanation, he just went with it. "A lot of times what I do is hang my hat off it, too, just in case," he said, "just for that little bit of paranoia. … I was totally against it, I was going to quit my job over it, but I did start seeing a benefit. I know there's other companies positioning the whole cab and sleeper in the camera, and I don't think that's fair."
Operators' worst fears of cameras have a strong basis in more than just paranoia. There's plenty evidence of camera-enabled micromanagement out there among working drivers. Amazon has used it to such effect with its local delivery van drivers, according to some of those drivers.
One made a TikTok video documenting how four cameras, including a driver-facing one, monitor her driving, and will ding her with violations for failing to stop fully at a stop sign, following too closely, or going more than six miles an hour over the speed limit.
"That camera is watching me while I drive, so I cannot do a lot," she said in the video. "If I want a sip of my coffee, I have to pull over so that I can grab it and drink it because if I do it while I'm driving that's a driver distracted, which is also a violation. I can't touch the center console or else that is a driver distracted violation."
ELD/telematics provider Verizon Connect recently pitched its "integrated Driver Monitoring Systems" using a suite of "AI fleet dashcams" to monitor driver behavior and even deliver real-time driver alerts to fleets for things like distraction, fatigue and phone calls. They added another, however: Smoking.
If there is one thing truck owners and operators by and large seem to hate more than the idea of losing their remaining scraps of privacy on the road, it's the notion that, one day, they may well be required to use speed-limiting technology, given FMCSA's current pursuit of a mandate. The distaste for driver-facing cameras one can view in the same vein. It doesn't only come from what they are, but what they might become.
The National Transportation Safety Board in 2017 called for mandated use of video-event recorders like road- and driver-facing cameras, adding them to it's biannual top 10 list of "most wanted" safety improvements. With the most-recent advisory list, that call seems to have taken a backseat to other priorities for NTSB, but the precedent was set. Time will tell.
Podcast -- Truckers 'canaries' in the tech mine: Inside story around 'Data Driven' book on ELD mandate, rise of 'new workplace surveillance'
Video monitoring, in two parts:
**Can AI transform the prying eyes of in-cab cameras for the better?
**In-cab and out, camera options expand amid push-pull of privacy concern, regulatory attention
ELDs/smartphones and location tracking -- Broker intrusions on the rise with ubiquitous location tracking capability
Truck and trailer telematics -- Telematics beyond ELD systems: Promise, redundancy and real expense/uptime benefits
Data mining -- The third parties following you around freight networks: Brokers looking more like carriers with 'data driven' decision-making
Smartphones/GPS -- Counterpoint to some truckers' tech reticence: 'If you use a smartphone, you embrace it'
Roadside inspections -- 'Nothing to hide, nothing to fear,' right? Get ready for Level 8, automated inspections
Podcast -- FMCSA offering 'kinder, gentler' approach to safety scoring? Not if automated inspections go live