The Motive company, formerly KeepTruckin, today announced the AI Omnicam -- a camera system built for side, rear, passenger and cargo monitoring. Paired with the company's AI Dashcam, which evolved from the KeepTruckin Smart Dashcam, the Omnicam aims to give owner-operators and fleet owners the full 360-degree view of the truck and trailer, its interior, and its surroundings. The company hopes adoption will improve road and job site monitoring and safety, allow for better investigation to combat fraudulent claims and resolve disputes over the transport and handling of valuable cargo and goods.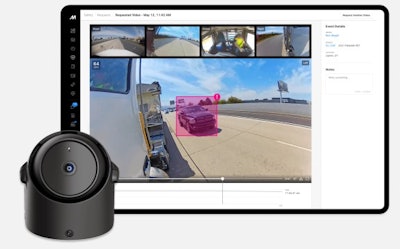 Motive noted sideswipes and rear collisions represent by some estimates more than 33% of fatal crashes and 44% of crashes with injuries. A wider field of view around the truck, with visibility from all sides with multiple cameras, could significantly enhance security in day-to-day operations -- and safety, ultimately. Combining this with high-definition video and automated alerts, the company said, should facilitate exoneration of drivers from false side and rear collision claims. The company hopes it will be effective for investigation of cargo theft incidents, and likewise resolution of disputes over loading and unloading of goods and materials.
While it's not the first such 360-degree system marketed to fleets and owner-operators, Jai Ranganathan, Chief Product Officer at Motive said that "previous fleet camera and visibility technology provided little-to-no side and rear-visibility, and those that did weren't able to quickly parse insights from footage," accessed through the fleet/owner-op customer dashboard/web portal, "or help prevent incidents." This camera system helps that along by integrating technology developed for Motive's AI Dashcam.
Audible alerts can be configured to deliver feedback to the driver, and as noted above, potential display from side and rear-view cameras in-cab could be added in future, with further development.
Abhishek Gupta, head of product for fleet management with Motive, wouldn't put a specific number on the cost of implementation of the system, but said it is highly customizable, configurable to a fleet or owner-operator's needs. Having tested it in beta with a dozen or so customers, "we've seen a variety of different configurations" utilized, said Gupta. In part, "that's why we called it Omnicam." Some carriers choose to deploy a camera only on one side of the vehicle or the other for view of just that side, for instance, or just one on the rear of the truck or inside the trailer.
"We can put it anywhere as long as we can connect to a power source," he said, and all cameras ultimately sync up into the central system, reducing installation time and cost typically seen with big multi-camera systems of the past.
Regarding pricing, he said it was in line with the subscription cost for use of the AI Dashcam system for existing Motive customers, and was subscription-based like the company's electronic logging device and/or fleet management tools.
[Related: New research confirms driver disdain for driver-facing cameras]
In addition to news of the Omnicam system, Motive recently announced a series of updates to expand the functionality of its Driver Safety Solution aimed at fleets. New capabilities allow the system to identify and alert operators and back-office personnel of new risk triggers captured by AI Dashcam, including improved collision detection, stop sign violations, driver distractions of various types, unsafe lane changes and camera obstructions.