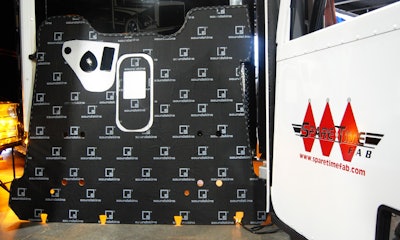 Central Pennsylvania shop Spare Time Fab's owner, Randy Martin, drove over-the-road for 12 years. He honed some of his custom-modification skills working on the rig he drove for owner-operator Gerald Jones, who's grown from two trucks then to "maybe 8 to 10 trucks" now, Martin speculated, as Gerald Jones and Son.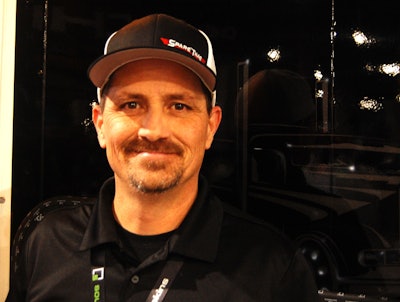 Martin did all that initially "in my spare time," he said. Hence the shop's name. Spare Time Fab, though, has been a full-time endeavor for more than half-decade now, and at the Mid-America Trucking Show last week in Louisville, Kentucky, Martin was showing off the shop's most recent project, precut cab floor/corner and door kits for sound-deadening developed with the SoundSkins company for Peterbilt 389, 388 and 386 models.
The SoundSkins material, Martin said, "is great. We've been doing truck interiors for six or seven years," testing all manner of material over that time span. The SoundSkins product, he added, "actually worked."
They approached the company about developing the kit to ease the installation process for truck owners doing it themselves.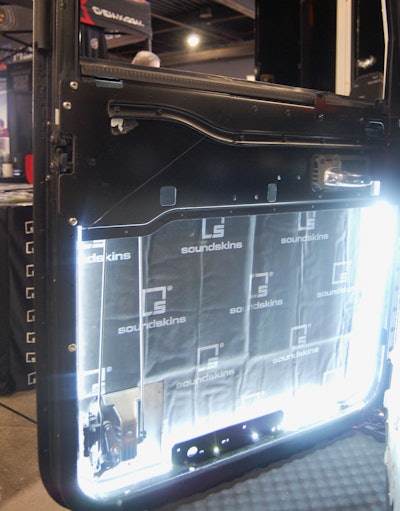 Recently, after Spare Time outfitted the 389 of owner-operator Clyde Weaver with door and floor kits, Weaver reported back the in-cab experience after the job was improved, everything "felt tighter, and he wasn't hearing the little rattles" that often accompany the experience of hauling, Martin said. Other owners have remarked on improved ability to hear phone and in-cab conversations and podcasts or music, generally something closer to a luxury-car-type sound experience.
Spare Time itself installs these kits "all the time," said Martin, estimating in the neighborhood of $1,200 in labor costs to do the job on a rig not already undergoing an interior customization.
Martin said they're developing kits for the Peterbilt 379 and Kenworth W900 models as well. Stay tuned for more in the future via Spare Time Fab and SoundSkins Global.