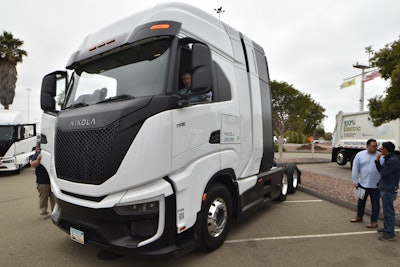 All images from Bill Aboudi
California's aggressive efforts to mandate diesel-burning trucks out of its massive supply chain have had a remarkable short-term impact, causing drayage fleets to stock up on as many post-2010-spec diesels as they can.
California has already outright banned 230,000 pre-2010 trucks from operating within the state, aside form notable exceptions, and rules around the ports will get a little stricter come the first the year. Beginning in January, only zero-emission drayage trucks may newly register in the CARB Online System, and you can't work the ports without registering.
"A lot of people around here are buying diesel trucks," AB Trucking owner Bill Aboudi said. "The economy sucks right now, volumes at ports are down 40 percent."
Small fleet Talon Logistics is "beefing up" with 20 diesel trucks, the Wall Street Journal reported on Wednesday, adding that Talon represents just "one of the many" buying fossil fuel burners like they're going out of style.
300-plus-truck fleet Pacific Drayage Services (part of the IMC family of companies) "compressed three years of growth into one year with diesel" this year, said President Jim Gillis, "to make sure we had enough assets on the table" to meet goals and customer commitments.
Dray fleets of all sizes "are being dragged across this line kicking and screaming," Gillis added, racing to dip their toes in the ZEV waters but also snatch up as many diesels as they can. .
By 2035, according to California's current rules, every truck at the ports will need to be a ZEV. Fleet owners like Bill Aboudi would rather wait and see than march in lockstep with California's timeline.
Aboudi owns two yard hustlers from the Orange EV company, and went through the extensive voucher process to order two Nikola trucks, until the units were recalled earlier this year. Now, he's in the process of trying to apply those vouchers to Hyundai hydrogen-powered trucks.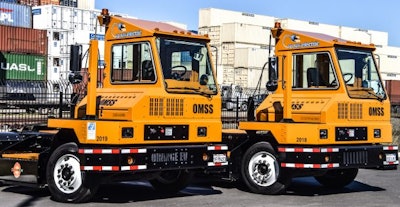 But even as a customer, Aboudi sees limited use cases for ZEVs, and he still wants his diesel trucks.
"There's a lot of PR around it, but really the trucks don't work yet in real life," he said. "They're great if you're Frito Lay, but as a common carrier my customers want to max out at 80,000 pounds" and ZEVs can't do that.
Aboudi frequently gets pitched different ZEV platforms as a fleet owner at the ports, but he says the common problem right now centers around weight.
"Tare weight is 12,000 pounds higher," on ZEV trucks versus diesel trucks, Aboudi said of his experience. "You need a customer that's willing to cut their load down by 12,000 pounds."
Aboudi hasn't found such a customer, and with the volatile nature of port trucking, he wants the options that diesel grants him.
Gillis concurred on the weight front, to an extent, though noting a 6K-7K-pound payload difference. PDS current runs six Volvo battery-electric vehicles. Gillis noted agricultural customers in the Central Valley who cube out their boxes at 44,000 lbs. "have to get down to 37,000-38,000 pounds," so the six BEVs can haul their loads.
BEVs, like Tesla's Semi, have proven themselves useful for some applications, as the North American Council of Freight Efficency's Run On Less program makes clear, but they operate within Pepsico's massive footprint, where Pepsi is both shipper and carrier.
[Related: Tesla Semi real-world performance stats finally drop: Does it live up to the hype?]
"I'm not running in a closed loop," said Aboudi. "I want to be able to make my money anywhere, especially when it's slow."
On the issue of weight, Aboudi said ZEV advocates have been pushing to raise the weight restrictions past 80,000 pounds. Several pieces of legislation floating around Congress right now set up pilot programs to accommodate trucks up to 91,000 pounds in weight, but trucking groups almost unanimously oppose them on safety and/or infrastructure-maintenance grounds.
According to Aboudi, ZEVs running in and out of the ports today "may be a little heavy, but nobody is going to admit that."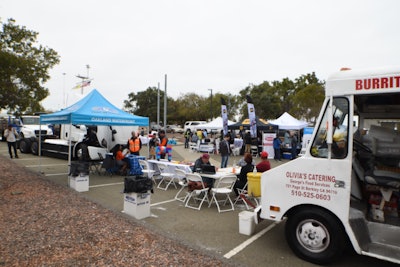 For now, Aboudi is focused on adding two more post-2010 diesel trucks to his fleet before the year's end. "They have to be after 2010, with enough miles on them. Normally we buy hand me down trucks," he said. "I want to be able to push out to the second or third generation of ZEVs."
Last year, Aboudi said an EV salesperson visited his lot, only to comment that Aboudi was trying to avoid the mandate when the salesperson learned he was stocking up on diesel trucks. "That's not what the mandate says," Aboudi responded. By buying diesel trucks during the allowed period, port fleet owners are actually carefully observing the law, not breaking it.
"Actually it's bad for you that they're mandating this so hard," Aboudi recalled telling the EV salesperson. "People are getting pushed into buying diesel trucks."
[Related: Surprising ways owner-ops and small fleets might make ZEVs work: A realistic outlook]