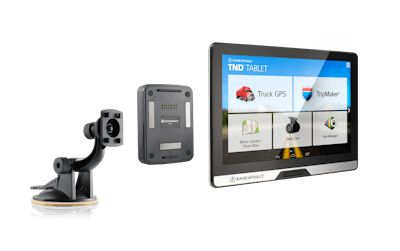 Rand McNally is launching its TND Tablet, marrying its TND truck GPS device with an Android tablet preloaded with trucking applications and access to the Android marketplace to provide what the company describes as "one device that does it all" for professional drivers. The in-cab device has an 8-inch screen and is designed to serve drivers on the road, in their mobile offices and with their lives in general.
The TND Tablet brings together solutions drivers need while operating their vehicles – such as truck-specific routing, mileage tracking and an onboard dash cam – plus pre-loaded applications to help manage the business of driving, such as document scanning, load matching and bookkeeping assistance. The Android platform also enables drivers to check email, keep up with social media and download entertainment.
The rugged TND Tablet provides all the features and functionality of the company's IntelliRoute TND GPS truck-specific navigation software; Rand McNally's TripMaker planning tool that allows drivers to create a trip on the tablet and then push the route to the TND on the tablet for routing; an eBook edition of Rand McNally's Motor Carriers' Road Atlas; and an option to use the tablet for electronic logging when paired with Rand McNally's HD 100.
Also available is Let's Truck's Fuel Manager for fuel cost tracking and Profit Gauges bookkeeping system, as well as Truck It Smart's load board and Transflo Mobile's document scanning and transmission.
The device itself has an additional GPS antenna, a magnetic commercial-grade powered mount and compatibility with rear or side-view cameras. Priced at $499.99, the TND Tablet is available at retail truck stops and travel centers, as well as select online outlets.