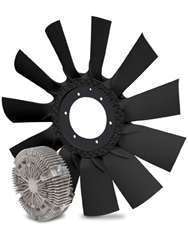 Horton's compact, lightweight Modulator LCV40 Fully Variable Fan Drive and WindMaster Plastic LS11 Fan are designed to deliver improved fuel economy, maximum efficiency and optimized engine cooling in a wide variety of agricultural, construction and transportation equipment.
Controlled by the engine's electronic control unit, the sealed Modulator LCV40 Fan Drive is built for high torque and a faster response time, with variable-speed operation and lower off-speed to help facilitate more usable horsepower for auxiliary systems.
WindMaster LS11 blades, constructed with UV-stabilized materials, can be trimmed to the appropriate size for radiator and airflow requirements and are computer-optimized for minimum deflection, reduced fan stress and increased airflow stability.
Horton also offers its Modulator RCV250 Fully Variable Fan Drive, an integrated belt-driven fan drive with a lighter compact design engineered to turn larger fans that require higher torque. For more information, visit www.hortonww.com.