Truckers were nomadic workers long before the COVID-19 pandemic made working and living on the road necessary and even fashionable for others.
But, making the most of living on the road means having the right gadgets and gear to make it work for you. It's possible to outfit your truck's cab and yourself with a minimal array of gear, so you just get by, or you can stock up and have all the digital comforts of home no matter where you are.
Here are some of the latest gadgets to make trucking a bit safer, more comfortable, and even more profitable. 
Orbitkey Nest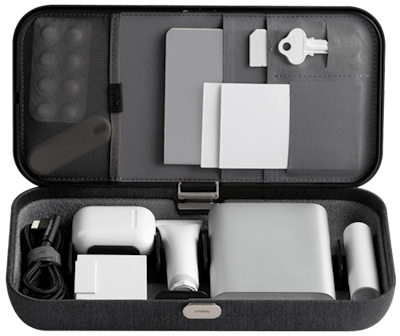 How many times have you heard – or even said to yourself – "A place for everything and everything in its place."? Often, we guess.
But, how often do you actually have those places and all your gear properly stowed? Not as often as you'd like, we're guessing, because storage space can be at a premium even in a large, well-appointed truck cab.
The Orbitkey Nest can help you keep some of your most important essential items properly stored. It can even keep some of your digital devices charged.
This storage/organizer lets you safely and comfortably store items while on the road. You can separate the top tray for easy access to items while you're parked and doing your paperwork.
The 10-watt charger in the lid helps you keep your wirelessly-charged devices fully loaded.
The other half allows you to securely store cards, spare keys, and other small items that otherwise might go missing. This main compartment can be segmented with moveable dividers.
iClever Folding Wireless Keyboard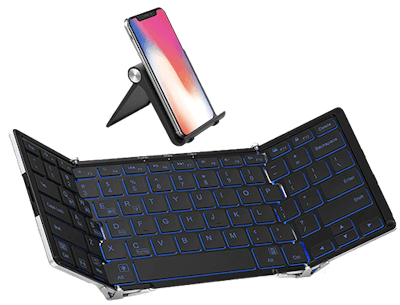 You may have the fastest thumbs in the West when banging out a quick and witty Tweet or responding to a Facebook post. But, you may need a bit more precision and staying power if you have to file a longer report, make a request to HR or explain an issue that came up on the road.
If so, you can do that with speed and accuracy when you unfold the iClever BK05 keyboard and use its Bluetooth 5.1 connection to type on your phone or tablet.
Using standard-sized keys, you can type quickly on any Android, Windows, or iOS device. In fact, you can switch between three devices with this handy keyboard.
One of the real pluses of this particular portable wireless keyboard is that its keys are backlit. That means you can see to type even in low-light conditions in your sleeper berth.
PowerDrive 10,000 mAh Power Bank
As truckers rely on more and more mobile devices while on the road, it becomes increasingly important that they have the power to keep them charged and useful. That means having a solid power bank is almost as important as having the device itself.
PowerDrive's new 10,000 mAh power bank will keep devices well-fueled.
It has three ports, a USB, a micro USB, and a USB-C. This power bank delivers high-speed charging with a 20W power delivery output and features a compact and lightweight design. 
Available  in most truck stops and travel centers for $24.99
Lume Cube conference call lighting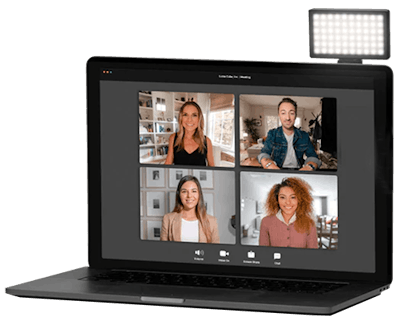 It's pretty much a fact of trucking life these days that you're as likely to be in a Zoom or Facetime video conference call as you are to pick up your smartphone and say, "Hello."
Another fact of life is that you ought to look your best when on such a call, and that generally means having your smiling face well and properly lit.
About the size of a credit card, this light attaches to your device and illuminates your face. It uses a simple suction cup device to attach and can provide up to 14 hours of adjustable light before needing to be charged. It uses a USB-C cable, which is included.
Available online for $69.99.
Jepwco G4 Pro Anti Spy Detector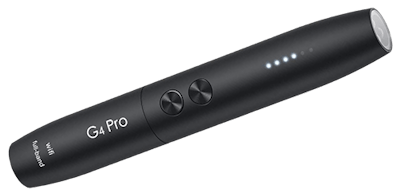 OK, right out of the box, please forgive us if suggesting this device seems as though we're, at best, cautious, and at worst, paranoid. But, one cannot be too cautious when on the road these days.
This modest, handheld device helps you detect hidden cameras, listening devices, or other electronics you'd prefer not to be in your hotel room, a truck stop restroom or shower, or anyplace else for that matter.
About the size of a felt-tip marker, this device scans and locates any RF signals so they cannot invade your personal privacy. With ultra-sensitive chips, this device has five levels of sensitivity so you can accurately find the source of the signal.
Available online for $79.99.
PowerDrive 120W Cup Inverter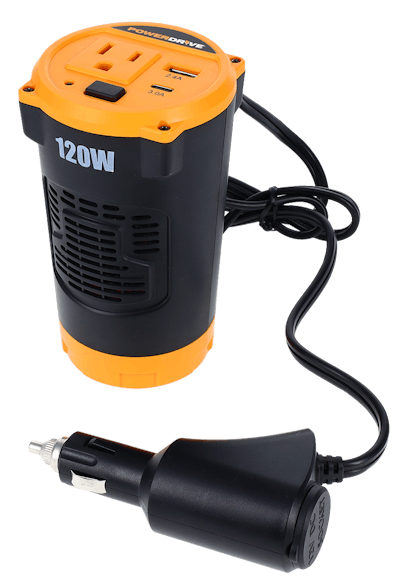 PowerDrive, part of the RoadPro Family of Brands, is introducing a whole new line of power inverters this spring, including this handy inverter that sits snugly into any of your truck's cup holders, plugs into the 12-volt port, and delivers a steady stream of power to run or recharge your mobile devices.
It has a three-prong AC outlet, a standard 2.4 amp USB port, and a USB-C 3.0 amp port.
Available at truck stops and travel centers for $34.99
SANAG portable Bluetooth speaker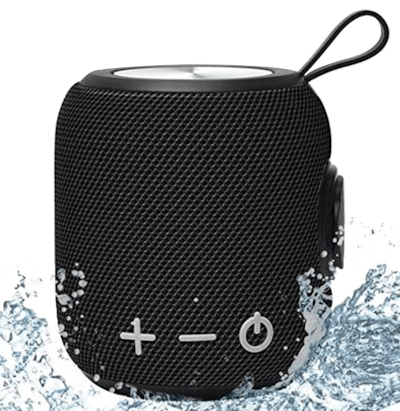 This portable Bluetooth speaker packs plenty of power in a small package.
It delivers exceptional sound, including booming bass, and can be paired with any device you wish to listen to. It will give you 12 hours of continuous 360-degree sound while withstanding most conditions outdoors, including rain.
A strong lanyard allows you to carry this speaker or hang it from a backpack or bike. Ideal for camping.
Available online for $50.
Senstone Scripter portable note-taking device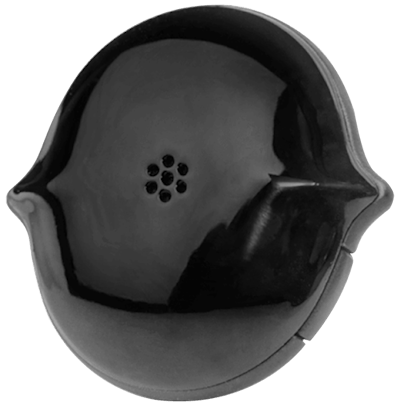 Sometimes when you're driving, something comes to you that you must – absolutely must! – remember. However, with both hands on the wheel, it's hard to jot down even a cursory note.
The Senstone Scripter does that for you. In short, the Scripter is a small recording device that translates speech into written text.
So you can keep driving and record a quick note with Scripter, which uses a magnet to attach it to the front of your shirt. You can record as many notes as you wish. Use it to remind yourself of things to do while performing your pre-trip, or remind yourself of every stop and turn during a new delivery.
And, not to worry. All notes are encrypted.
Available online for $149.
Powertraveller Extreme Solar Charger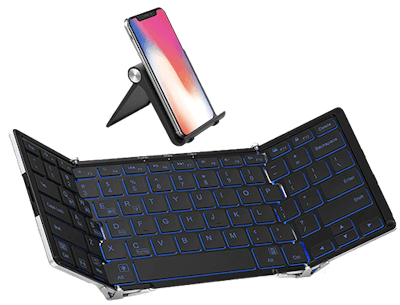 It's good – even necessary – to prepare for as many contingencies as you can when driving over the road. One such situation could mean having your smartphone just about out of juice and nowhere to plug it in.
Now you can let the sun recharge your phone with a little help from the Powertraveller Extreme Solar charger. This lightweight solar panel unfolds to deliver 5 watts of power, perfect for refilling your smartphone.
It has a smart, two-color system to keep you informed: red means solar charging is minimum, while green means it's at its optimal level. Charging time is about six hours.
Available online for $79.95
Garmin Instinct 2 dēzl edition smartwatch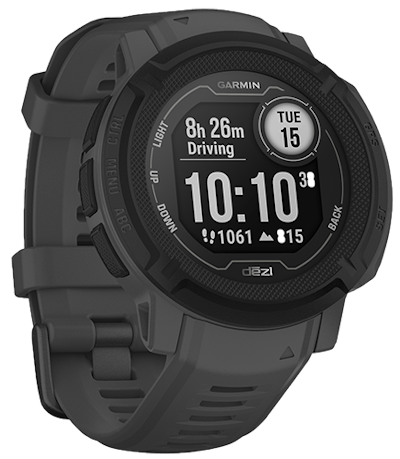 Garmin recently unveiled a new device aimed at making truckers' lives on the road easier and healthier.
The company released Instinct 2 dēzl edition smartwatch, which was "created for professional truck drivers seeking to lead a healthy over-the-road lifestyle."
According to the company, the new smartwatch allows drivers to monitor their health around the clock by tracking heart rate, sleep, stress, and more. It also includes exercise workouts the company said fit a trucker's daily routine.
The Instinct 2 – dēzl edition also allows truckers to simply look at their wrists to access member loyalty program information from select truck stops and travel plazas and quickly pay on the go by using reward point balances directly from the watch.
The watch also has
●     Extra-long battery life of up to 28 days in smartwatch mode
●      The ability to use reward point balances and access member loyalty programs from Love's Travel Stops and Pilot Flying J Travel Centers
●      On-screen PrePass notifications for upcoming U.S. weigh stations and bypass decisions (this requires active PrePass account and use of the dēzl app on a user's smartphone)
●      The ability to use Garmin Pay contactless payments from the smartwatch to make pay at store checkout lines at participating providers
●      A way to plan for stops along a route using daily break timers with timely notifications
The new Instinct 2 – dēzl edition trucking smartwatch has a suggested retail price of $399.99.