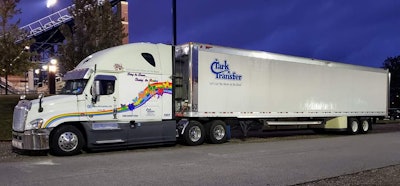 Submitted by Donna Brackbill
You featured my truck back in December 2018. The graphics were redone in October 2019. None of the other details have changed.
Donna Brackbill hauls Broadway production scenery and equipment with her 2017 Freightliner Cascadia Evolution. The rig is powered by a 500-hp DD15 Detroit with a Detroit D12 automated transmission. She has added chrome mirror covers, an 18-inch stainless steel bumper, Hogebuilt quarter fenders, an aftermarket grille, ThermoKing TriPac APU, as well as a customized interior with full chrome trim, refrigerator, pull out drawer sink, microwave, Keurig, Delphi SiriusXM and Dish Network satellite. Brackbill, out of Lenoir, North Carolina, has been an owner-operator since 1989 and has been leased to Clark Transfer for the last three years. She is the lead driver on Fiddler On The Roof.