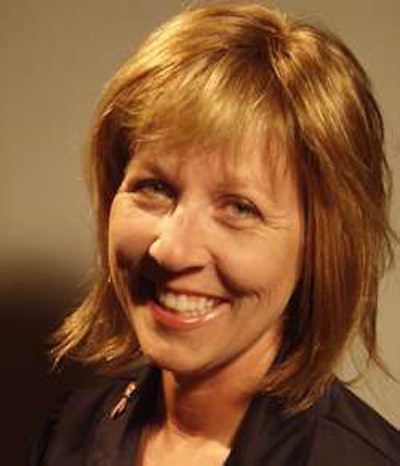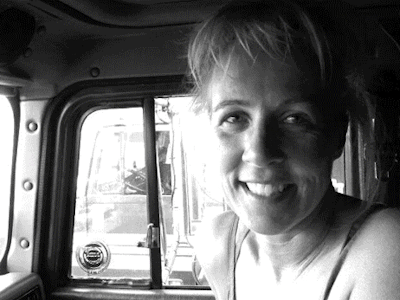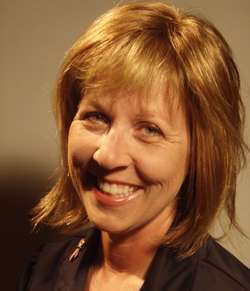 Name: Karen Moore
Owner-operator: Independent, Tom Moore Transportation
Years in trucking: 12
What and where she hauls: Flatbed, 48 states
Truck: 1999 International 9400
The day she finished her course of radiation treatment for breast cancer, Karen Moore was back on the road with a cross-country load of bees bound for Florida. That was in March, and she was still weak.
"I got to hit the ground running, which is good. My energy's good, and I'm getting my strength back. But I used to do a whole bunch of push-ups and work out really hard. Now, my body doesn't know what to do. It's like starting all over again. But I have the energy, so life's good."
Indeed, if this former legal secretary decides to give up professional trucking, she could make a living as a professional optimist. Her sentences are typically punctuated with laughter. She can talk about IFTA taxes and sound enthusiastic.
Still, there's nothing fun about a cancer diagnosis. Yet in discussing her trucking life and Overdrive's Most Beautiful contest, Karen speaks always of 'we,' as in she and her husband, team driver and business partner Tom Moore.
Trucking is an interesting profession in that truckers so many times are yelling and screaming on the CB. They act like they're tough and they're really critical of each other. Yet, if you have a breakdown, or if you need something in the truck stop, a trucker will be the first one to help you out. So I definitely feel a camaraderie among truckers.
In a dozen years of trucking, they'd never gone out solo. But, weakened by her treatment, Karen twice had to "play dispatcher," even from the chemotherapy chair.
"Because we're independent, we had to book our own loads. It was quite a feat, but we kept everything paid. And now he appreciates having me back in the truck. Between my legal background and his business mind, we were a perfect match. We made it work."
Still, there's nothing like a life-and-death scare to help a person understand priorities. She's always enjoyed the behind-the-scenes look at America trucking offers, but Karen recounts a recent visit to the landmark Dinesphere — that giant golf ball structure just off of I-40 near Yucca, Ariz.
"We've been driving past for 12 years wondering what that is. Finally, we said we're going to stop. And they'd just closed for remodeling," she says. "It's important to take a little time to smell the roses, see the sites, see your friends while you're out trucking. A single driver may not enjoy it so much, but it's important because some day these things are going to be gone. You're going to regret not picking an afternoon and going to see something. Get off the beaten path. It makes trucking so much more interesting. If you're going to go trucking, enjoy it."
Overdrive: What made you decide to enter the contest?
Karen: It was a whim. I didn't even think about it, other than 'that's cool.' I was still going through chemo, but afterwards I was glad I did because it's been so much fun. When you hit 50 you don't feel as beautiful as you were when you were 20. Then on your 50th birthday you find out you have cancer and you lose your hair and your eyebrows, you really don't feel very attractive. But inside still you still feel like you used to — it's only when you walk by a mirror that you go, 'huh.'
What made me decide was I always attractive when I was younger. But you lose so much of the physical beauty, it becomes so much more about what's inside — what comes through your eyes, your smile. That's so much more important than physical beauty that you can lose. But if you have beauty in your heart, and you're a good person, the rest of it doesn't really matter.
Overdrive: What is your definition of beauty in relation to trucking?
Karen: A lot of people have a conception of what women truckers look like. Especially when we first started and I was younger, I would call up a steel mill, and say I'll be picking up some steel. Guys would actually come in to see a woman trucker. All women truckers shouldn't be fat and sloppy, and that's what a lot of people think of. Trucking has gotten a bad image over the years, and when we see an attractive trucker – woman or man – we're pleased. If someone takes pride in how they look, even if they're sitting behind the wheel and someone may not see them all day, they still take pride in how they feel. It's the whole attitude. They put a smile on your face, and they do a better job.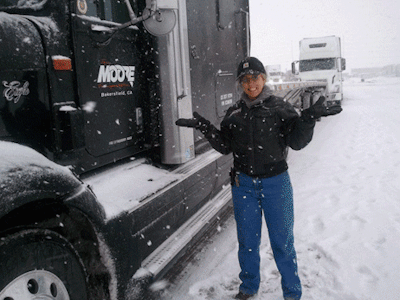 Overdrive: What was the reaction from your friends and family when you made the top 10?
Karen: They're thrilled. They kept asking for updates and now they can't wait for the voting to start again.
Overdrive: So is there a sisterhood—a camaraderie between the women—in trucking?
Karen: Trucking is an interesting profession in that truckers so many times are yelling and screaming on the CB. They act like they're tough and they're really critical of each other. Yet, if you have a breakdown, or if you need something in the truck stop, a trucker will be the first one to help you out. So I definitely feel a camaraderie among truckers. I don't run into that many women, but we'll chat a little bit — so I don't know. It's still mostly a man's world.
Overdrive: How do you feel about the role of women in trucking?
Karen: More women would improve the image of trucking overall. I think it's a great profession for women. I was a legal secretary for 20 years where I went to a cubicle and worked long hours, but I always wanted a job where I could be outside, get dirty and see the country. I have found it to be a wonderful opportunity to make friends all over the country. A lot of people I worked with had never left the state. There's so much out there, and trucking is a fabulous opportunity.
If I were doing it alone, I'd probably be a little concerned. But I'm lucky that I have a husband and a best friend to work with, and that we work together so well. We're just a really good team. Women who go out solo and go long distance are very brave and they have my utmost respect.
Overdrive: Do you have any unique experiences that have happened because you are a woman trucker?
Karen: Usually Tom and I are together. Men don't harass me or anything like that. But in some of the little towns, where it's still a good ol' boy's world and they all work at the steel mill, they are still really surprised to have a woman come in to deliver a load. To this day, it never fails: I'll call in to set my appointment, and they'll say, 'have your driver … .' They can't comprehend. I'm just the little gal in the office and a male is going to deliver their stuff. It can't be me. That's 98 percent of the time, telling me to have the driver call when he gets close — and I'm the driver! It's like they didn't hear me.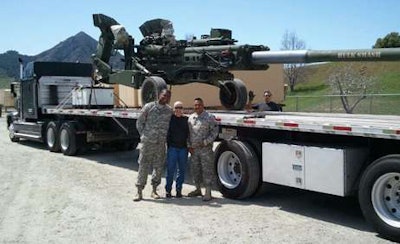 Overdrive: Is there one thing you wish you would have known before you started trucking?
Karen: Some things you have to accept, like you may not get a shower every day. Most mornings I'm getting up at 4 a.m., doing a pre-trip then I hit the road. Makeup? Are you kidding? I'm lucky to put on lipstick. If you care about primping and doing all of those things, trucking may not be the job for you. But I've learned so much about myself. I've learned that I have more endurance, to go the long haul. On expedited runs there's no time to stop for anything: drive, sleep, drive, sleep. I've learned that I really am a super hard worker and I can take a lot of adversity and I can take a lot of stress. It's a very stressful career, especially being an owner-operator, where you're in charge of everything — maintenance, repairs, tires, legal stuff.
Overdrive: If you could fix one thing about the trucking industry, what would it be?
Karen: It would be so nice if not one more trucker would leave a pee bottle or trash on the side of the road. I hate going into truck stops and rest stops and weigh stations and there's so much litter. And you know, with one-gallon bottles of urine, that it's caused by truckers and it's so disgusting. I would clean up that part of the trucking industry. It's so sad to see this beautiful countryside littered with trash. There's no excuse. I just don't get it.
Overdrive: If you could say one thing to the non-driving public about women driving big rigs, what would it be?
Karen: The biggest thing that I get from non-truckers, when they find out we have a trucking company, is they turn to me, never Tom, and say, 'do you drive, too?' I've known a lady trucker who trained her husband to be a trucker, and people would turn to her and say 'do you drive, too?' And he wouldn't correct them at all — he was the macho trucker. It's still a very sexist mentality that people have. I know a lot of women go along, but I can't imagine being in a big rig 24 hours a day and not driving. You can only read or knit so much.