Name: Anna Sosnina
Occupation: Professional Driver
Company: Silver Sate Lines Inc.
Years driving: 2 Years OTR in August
What do you haul?: Anythung they can fill a 53 foot dry van with.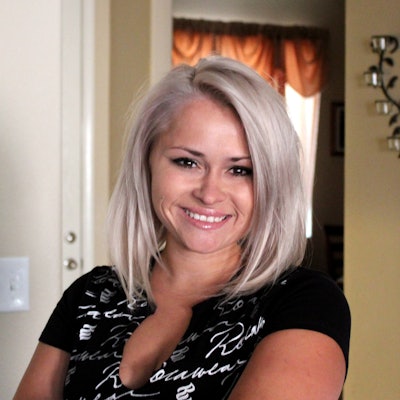 1. Why did you get into trucking?
I was looking thru some jobs adds in the newspaper when I saw that add saying: "Enroll now and get behind the wheel in as little as 4 weeks". I'm a girl that likes challenges and at that point, I thought it would be a great personal achievement to be able to drive those big wheels down the road. I didn't know what I was getting into, no one in my family nor in my close friends had ever drove one of those if not even knew what it looked like from the inside of the cab. I finish my driving course, got lucky enough to find myself a company willing to give me a chance and here I am now, proud as I've ever been of myself.
2. If you could take one person on the road with you, who would it be, and why?
Being a single parent of a 3yr old boy, he is my first priority and would definitely be the one I take on the road with me if my trips weren't so extensive! I miss him so much and it is very hard for me to leave home every time. That first day out the only thing I can think about is how I wish I could turn this truck around and head home. Luckily I will be hitting my two year over the road mark in august and will be finding a local driving job so I can spend my every free second with him!
3. What would you tell a young female who is considering a career in truck driving?
It's a challenge for everyone who starts especially for women in a men's World. Based on my experience, be yourself would be the main priority. Evaluate your needs and ambitions/dreams and don't let go of them! There's some good people in the industry that are there to help you. Consider every advices given before taking them and get to know your limitations right away. It's a men's world and they know it. Don't let anyone rule you or tell you what to do and make sure that you are safe with your task before attempting anything that you're not sure of. Do not assume or guess. If you're not sure, ask questions and pressure to get answers. In this job, you never want to be sorry for not knowing. Make sure that everything is in your advantage on the road. No risk, no harm!
4. Feel free to include information about your own experiences as a female entering the industry.
My experiences have been nothing but pleasant. From what I've learned if you have the right attitude you get nothing but the outer most respect from the males in the industry. Drivers are always willing to help one another out, a lot of the reason why I like this job. A few times this has happened to me, I was working on fixing something on my trailer or tractor and another driver will come up and ask if I need help. I've also had plenty drivers come up to me whether it be at the fuel isle or inside the truck stop and tell me how glad they are to see more women out on the road. One of the main things I enjoy about this job is meeting up, in random states, with those amazing people I've met since I started driving. There's never telling where and when you'll cross paths again. Oh, and let's not forget the sights! British Columbia is the most beautiful place I've been to. It would easily win overdrives most beautiful, simply jaw dropping. ;)
5. What is your definition of a beautiful trucker?
Beauty is not defined by the exterior but by what people keep hidden inside of them. Beauty in trucking for most would be to see a hottie coming out of a Peterbilt or a Kenworth but unfortunately I drive an International. Beauty is within the person that you are. Being helpful and responsive to others needs, keeping a glowing smile and show courtesy to your immediate surroundings whether it would be the "4 wheeler" trying to merge in, the shippers/receivers that we deal with everyday and the cashiers and waitresses that we meet along the road when we stop for our own personal needs. For me the definition of beautiful trucker would be resumed in only 2 words: courtesy and respect.
6. Why should you be chosen as the winner of Overdrive's Most Beautiful?
I feel that I should be chosen because I am a beautiful person. Not just my looks but who I am and my personality. I am very outgoing, polite and courteous to everyone i meet. I take pride in my job, and impress myself daily at how far I've come since i started driving. I am learning new things every day and trying to better myself as a driver and as a person. I'm very honored to have been nominated in the top ten and for that reason we should all consider ourselves as winners! To be named "Overdrive's most beautiful driver" would be a milestone that I never thought I would earn and I would make sure to represent my fellow female truck drivers and your magazine proudly on the road.