Name: Emily Ann Weymouth
Occupation: Truck driver
Company: Dennison Lubricants
Years driving: 1 1/2 years
What do you haul: Motor oil and other lubricants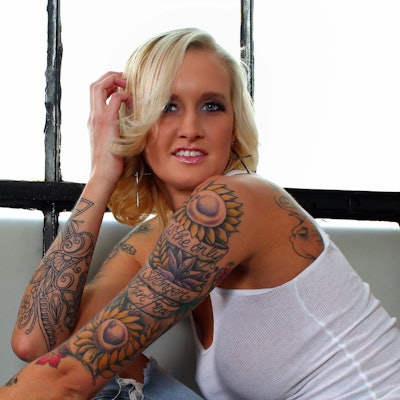 1. Why did you get into trucking?
When I was younger I always loved the challenge of being better than the boys and showing them up. Now I have the passion to succeed in this industry and show that this can be a woman's world as well. It feels great knowing I can be as good as the men, if not better. I love being on the road and challenging myself. It also makes me giggle a little when I get out of my rig and every one looks at me dumb founded, or when someone asks me what I do for work and I tell them I drive a big rig, the look of shock on their face is priceless.
2. If you could take one person on the road with you, who would it be, and why?
I would choose my father. As a young female, our family would go on numerous vacations due to my father's hard work paying off. He also sent me to Europe a few times with my high school. I explored the world because of him. I would love to have him explore our country with me. It would also feel good to show him my progress as a trucker and to have him be more proud than he already is of me.
3. What would you tell a young female who is considering a field in trucking?
If I had to advise a young female that was interested in this field, I'd start with telling her "no regrets." I'm a tough female that likes the challenge. I'm confident in my abilities and work hard. You can't let anyone hold you back from fulfilling your dreams. Be strong and tough and you'll get there.
I've traveled so many miles already in a short time and I've yet to fulfill my dreams. I'm more than excited to find out what the road ahead brings for me…
4. What is your definition of a beautiful trucker?
I think a beautiful trucker is someone who isn't afraid of being themselves. Someone who has a passion for what they are doing on a daily basis. She should be confident and outspoken, yet cares for others. I think a female's rig also comes into play with this question. Truckers take pride in the rig they drive, and that helps show confidence out on the road.
5. Why should you be chosen as the winner of Overdrive's Most Beautiful?
Because as a woman in a male-dominated career, I want to inspire other young women to be strong and see beyond stereotypes. I represent women pushing towards what they want to do in life and not what they are told to do. If I don't win, at least I know that there are people that support what I do, care about me and want me to succeed in whatever it is I decide to do in life…