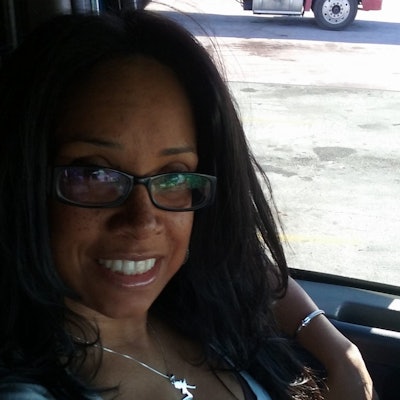 I've been driving for about four years. I was originally from Massachusetts and moved to Tennessee when things didn't work out with my spouse, and I was left all alone not knowing anyone and everything went wrong. I needed a change and saw an ad for driver training. I had nothing to lose since I lost it all anyway. I
jumped on a bus went for training. I've come along way I thank the professional drivers that have helped me when I couldn't back up into the dock and I was a wreck as a new driver, especially being a woman it's totally amplified. Everyone is watching you and comments on how good or bad … it's how it is. I'm never afraid to ask for help or ask questions. I'm grateful for advice from the other drivers, but then there's the other side. I try to keep a neat appearance and represent in a professional manner. There's still that Macho attitude out here, since I haven't been driving for 50 years I'm just a steering wheel holder, I'm stupid for leasing my truck, and my favorite is, "You drive like a girl." Really? What is that supposed to mean?
I don't do negativity. I can't stand it when other drivers put down other drivers male and female. I will have random women talk to me about life as a female truck driver because they want to do it but they're scared. Backing is the biggest fear, and the size of the truck. I tell them my experiences, and give them some insight and a positive outlook on it. You can do it. I tell them, "You don't know till you try." I just want to inspire some females that want to drive truck. It's okay to wear lipstick and have your nails done. I love looking good, and feeling good driving that big boy down the road. I've come along way from being abandoned, practically homeless and not knowing what tomorrow would bring. Now I work for an awesome company have my own truck. I absolutely love what I do and just grateful for the opportunity that I took advantage of to change my life.