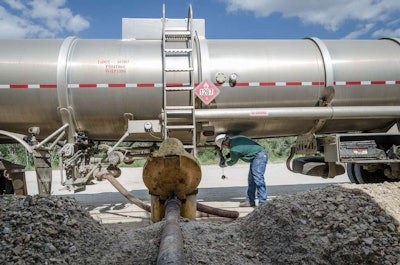 Sixty-three congressional representatives have signed a letter requesting the Federal Motor Carrier Safety Administration rescind recently published oilfield exemption guidance.
The FMCSA's July 5 guidance stated the significant jump in oil and gas drilling operations had hiked traffic to move oilfield equipment and transport supplies to the sites. Operators of many of these vehicles have questioned the applicability of the hours-of-service oilfield operations exemptions, the agency wrote.
But a bipartisan group of lawmakers requested the FMCSA rescind the guidance, calling it a "significant departure from more than 50 years of interpretation" of federal code.
"Having reviewed this guidance, we find that it arbitrarily and unjustifiably limits the types of commercial motor vehicles that may use the waiting time exception to the hours-of-service regulations provided for oilfield operations," their Aug. 1 letter stated.
The guidance would significantly restrict hydraulic fracturing or "fracking" operations. Additionally, it would create two classes of drivers to coordinate for oil and gas sites and result in requiring more drivers and trucks.
This month, the agency extended the comment period on the guidance until Oct. 5 and scheduled listening sessions on the matter Aug. 17 in Denver and Aug. 21 in Pittsburgh. A third session is expected in September in Dallas, but a date has not been set.
The American Trucking Associations had requested the extension, stating that otherwise the industry lacked opportunity "to prepare or to air our concerns."