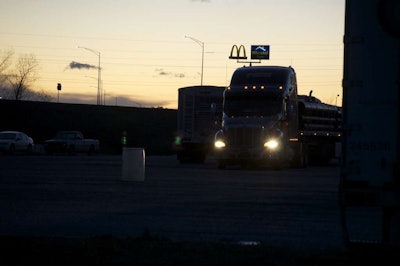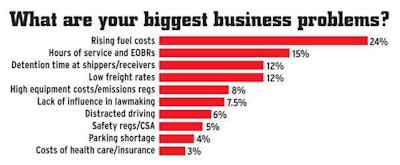 The trucking industry faces more restrictive hours of service restart rules starting in 2013, as well as the prospect of litigation further delaying that date or even changing the revised hours rule. That uncertainty is complicated by the voluntary adoption of electronic onboard recorders by many carriers and the congressional mandate for EOBRs in the recently passed highway reauthorization bill. (See details via this page and this page. For full EOBR coverage, find numerous recent stories here.)
Former flatbedding owner-operator Don Lanier, based in Alton, Ill., and today leased with a Freightliner straight truck to expediter J.D. Clark Logistics, says he's never had to run with an EOBR himself, but has "heard good and bad" from other operators. "Some say guys don't want them so they can cheat, but with today's CSA and roadside inspections and weigh stations getting tougher, that's a fool's game. I don't personally want to be tethered to one. It's intrusive, and 'big brother' has enough on his hands just keeping the Congress working, let alone me."
While such sentiments tend to dominate conversations among operators who don't utilize EOBRs today, there is real division about their use. Operators leased to one of the many fleets who've adopted EOBRs, among them Schneider National and Prime Inc., in many cases come to appreciate them for benefits including paperwork reduction and operational streamlining.
'We need more flexibility'
Owner-operator Jeff Clark calls the combo of the rigid 14-hour rule and FMCSA's intention to enforce it with EOBRs a "sell out" to large companies to tip the scales their way."I deal with a lot of small customers," he says. "Most of these customers can't take a truckload at a time. I will often have appointments as early as 3 a.m. in the meat markets of Chicago and then deliveries in the suburbs hours later. It is easy to get out of the city at 4 a.m., then go back to bed until my suburban customers open. I have seen drivers who get stuck at a customer for six to seven hours told to wait another three to four to show a 10-hour break even though they never slept."The rigidity of the 14-hour clock "also forces drivers to hurry," Clark adds. "That is never good. I think that in the long run the 14-hour rule will lead to an increase in accidents."
At Prime, "We have polled our folks numerous times, and there is no desire to return to paper logs," says company Safety Director Don Lacy. "Electronic logs have ramped up the efficiency in our operations department and eliminated the uncertainties that used to actually contribute to wasted time. Operations, sales and owner-operators are now all on the same page with complete transparency."
Tom Blake has found similar benefits on a much smaller scale after installing PeopleNet units in his fleet's five trucks, plus one owner-operator's truck running under his authority. That includes the Peterbilt he drives. He paid $1,400 apiece for the units, and now pays a monthly service fee.
He figures the expense is "a wash for the man-hours I had to put into figuring out trip sheets and fuel taxes and auditing all the logs." That means more time he can spend hustling container freight, he says.
While he'd never had a driver put out of service for a log book violation, Blake came to EOBRs in 2011 worried about what form and manner violations were doing to his fleet's score in the Fatigued Driving category of CSA. His numbers were verging on alert status, which would trigger an intervention.
Blake presented his stark choice to his drivers: "I said, 'I've got two options. Either I install recorders or I'm going to have to shut my doors." Blake views his decision to install EOBRs as a necessary adaptation, echoing Schneider's owner-operator fleet leader Mike Bethea's thoughts on technological change. (Read more about Blake's move to EOBRs in related reporting here.)
"The environment is encroaching on the guys who've gotten by with a little bit of luck," Bethea says. Use of "electronic logs is coming in with most every major carrier, or they're experimenting with it. We're going to have to figure out how to optimize our time better so we can bring in revenue." Owner-operators need to "keep ahead with the technology" in all aspects.
But former household-goods owner-operator and current fuel hauler Allen Smith, like many owner-operators, believes there is a widely held misconception in regulatory and legislative circles that sees EOBRs as a cure-all for safety problems. Instead, there are larger root causes, such as detention. The Owner-Operator Independent Drivers Association was right, he says, to challenge the previous recorder rule – the court threw out that limited mandate a year ago on grounds that FMCSA did not give due diligence to the issue of whether recorders could be used to harass drivers.
FMCSA's Motor Carrier Safety Advisory Committee took up the harassment issue last February, followed by listening sessions with drivers on EOBRs and harassment at the Mid-America Trucking Show in March and a Commercial Vehicle Safety Alliance event in April.

Be aware of your EOBR options.
If and when the newly minted EOBR mandate begins (assuming various challenges that may drag out implementation), independent owner-operators will have many choices for compliance. Costs vary widely in terms of up-front payments and monthly fees.
Devices like Xata Turnpike's RouteTracker come with no down payment, just a monthly addition to your cellular service plan and apps on your existing smartphone. J.J. Keller's eLog device and Sable Truck Systems' Android tablet EOBR have up-front hardware costs under $500. Keller's has a nominal monthly maintenance fee, but Sable's has none.
Thomas Bray, senior transportation management editor for J.J. Keller, advises operators to stay aware of the market and choices for compliant devices.
"If somebody hasn't looked at EOBRs in the last five years, it's gone down from thousands of dollars to just a few hundred dollars" in terms of average device cost, he says. "As it goes mandatory in a few years, so many people will jump into the market that it will be very cheap."
He points to cell phone market trends as analogous. "My cell phone contractor now throws in a free cell phone" with every contract, he says. EOBRs may end up being much the same, with customers paying primarily for service.
Early adopters will get the benefit of better service from vendors, Bray says. "You'll be able to learn how to operate in that electronic environment earlier," getting a leg up on your competition. "You can do the transition in a more controlled manner."

Sample smartphone logging apps.
Most smartphone apps designed for logging hours of service do not have a level of functionality that will satisfy federal requirements for monitoring hours compliance. Still, at less than $10, they present an easy, private alternative for getting accustomed to some aspects of electronic logging.