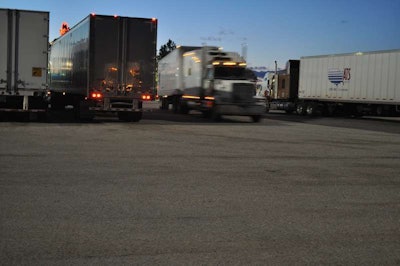 Rep. Richard Hanna (R-N.Y.) issued a statement this week signaling that the Federal Motor Carrier Safety Administration will miss its Sept. 30 deadline for completing and reporting the results of an hours-of-service study required by the current MAP-21 highway funding act.
He also said in the statement he intends to work with other members of Congress to "bring relief to our nation's truckers, small business and consumers — and restore some commonsense to this flawed regulatory process."
Hanna was one of the key members behind a letter sent to Secretary of Transportation Anthony Foxx in late August asking if the agency could provide a date as to when the findings of the study would be reported. The letter was signed by 51 representatives and called into question the validation of the current hours-of-service rule, which went into effect July 1, saying moving forward with the new rule prior to completing the study was "counter to commonsense."
The letter also asked that a response be given by Sept. 12, which did not happen, says Renee Gamela, communications director for Hanna.
According to reports, the agency did receive the letter and says it intends to respond individually to those who signed it.
"It is imperative that the rules governing the commercial trucking industry be backed by factual, statistically-valid and data-driven studies that are fully completed and analyzed before proposed rules come into effect," Hanna and his colleagues wrote in the August letter.
Click here to read it in its entirety.
Hanna in July intended to propose an amendment to the Transportation, Housing and Urban Development, and Related Agencies Appropriations Act that would have essentially overturned the hours rule by stripping FMCSA of its enforcement funding for the rule.
The THUD bill, however, was pulled from the House July 31, right before Congress recessed for August.