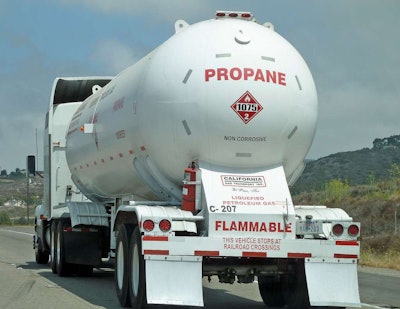 The Federal Motor Carrier Safety Administration has finalized changes to federal safety regulations that will allow certain state-issued emergency declarations to supersede federal hours-of-service regulations.
The agency's regulatory amendment — which is scheduled to be published in the Federal Register Oct. 22 — will exempt drivers hauling home heating fuels of compliance with federal hours-of-service limits when states of emergency are issued during fuel shortages.
Governors who issue emergency declarations to waive hours limits as a means to try to lessen fuel shortages will have the power to suspend federal HOS rules for fuel haulers in 30-day increments. If the shortage still persists after one 30-day issuance, FMCSA's amendment allows up to two additional 30-day periods of HOS exemption.
The agency's amendment was required by the Reliable Home Heating Act, passed by Congress in May and subsequently signed by the president in June.
The legislation came in response to propane and other home heating fuel shortages that struck large chunks of the U.S. last winter when colder-than-average temperatures, regional spikes in demand and other factors
State-issued emergency declarations were issued in 36 states in January, February and March, and FMCSA began issuing regional declarations in early February.
The agency is not accepting public comment on the rule, citing the good-cause exemption in the Administrative Procedure Act.