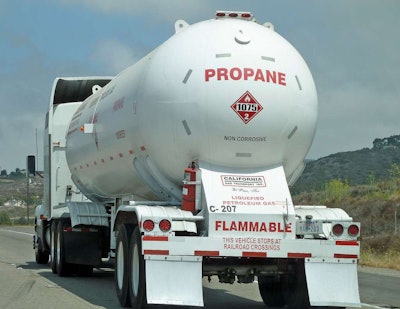 Propane haulers in 36 states are exempt from federal hours-of-service regulations until May 31, as President Barack Obama signed a bill into law March 21 that extends waivers first granted by the Federal Motor Carrier Safety Administration in February.
The bill is aimed at helping ease a nationwide shortage of propane and home heating fuels caused by a distribution hang-ups and an uptick in demand due to the winter's severity. It also applies to drivers and carriers hauling other home heating fuels.
States included in the exemption are: Kentucky, North Carolina, South Carolina, Georgia, Tennessee, Arkansas, Alabama, Mississippi, Louisiana, Florida, Oklahoma, Connecticut, D.C., Delaware, Massachusetts, Maryland, Maine, New Jersey, New Hampshire, New York, Pennsylvania, Rhode Island, Virginia, Vermont, West Virginia, Illinois, Indiana, Iowa, Kansas, Michigan, Minnesota, Missouri, Nebraska, Ohio, Wisconsin, North Dakota and South Dakota.
FMCSA first issued Feb. 5 regional declarations exempting these states from HOS rules, but the agency can only issue waivers 30 days at a time, which "[create] uncertainty and limited relief," said the bill's House sponsor Rep. Bill Shuster (R-Pa.).
Shuster then introduced the House version of the bill Feb. 25, grandfathering in for extension all states included in the Feb. 5 waivers.
The House passed the bill March 4, and the Senate cleared its version March 14.
Per the one-page bill, Secretary of Transportation Anthony Foxx can end the waivers on a state-by-state basis by working with governors in each state if the exemptions appear to no longer be necessary.
The National Propane Gas Association requested exemptions for propane haulers in January, citing as causes for the propane shortage a late and wet grain and corn harvest that caused a spike in demand for propane for fuel grain dryers; the "polar vortex" events that caused historically low temperatures in much of the country and a spike in demand; and an overall lack of propane storage in the Northeast, among some other factors.
The country's propane supply is "more than adequate," NPGA wrote, but propane suppliers were having trouble getting product to customers due to transportation and distribution.