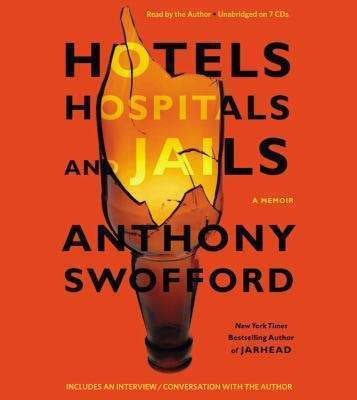 By Anthony Swofford
Read by Anthony Swofford
Hachette Audio
Available on Audible.com, iTunes, Amazon.com
Charlie Sheen and Lindsay Lohan have given us a glance at how a taste of fame can cause a meltdown in one's life, with drugs, sex and popularity easily destroying any semblance of normalcy and functionality. "Hotels, Hospitals, and Jails" takes a deeper look at how life can unravel and fall apart, but shows that there is, perhaps, hope for the lost.
Anthony Swofford, author of the autobiographical war memoir "Jarhead," which was made into a 2005 movie of some acclaim, has written the second of his memoirs in "Hotels, Hospitals, and Jails." The audiobook lasts about 8.5 hours across seven CDs. Swofford reads the book himself.
After his stint as a Marine sniper during the Gulf War, Swofford comes home to a small amount of literary fame and a desperate need to adjust to civilian life. When a young man needs help, often times, he turns to his father. Instead, Swofford's father turns to him when he falls ill, struck with COPD. The relationship between the two already strained, Swofford finds himself forced to face his father's faults head on, taking a series of RV trips where the two are forced to answer to one another.
Swofford's distress with his father seems to come partly from his childhood, partly from their similarities. Swofford's life, filled with infidelity, sexual conquests, drugs, alcohol and a nearly-fatal car crash, offers him no solace. Having to suffer through his older brother's slow, cancerous death and a crumbling marriage gives us room to empathize, but Swofford is still forced to show the self-admittedly terrible man he was in order for us to root for his change toward being a good man in the end.
The audiobook contains a small Q and A session at the end, something other audiobooks won't have, and has the benefit of the reader knowing the material intimately. There are no voice changes to be had, which is fine, as it is an autobiography. The timeline jumps back and forth, hopping between Swofford's pasts and presents, making it occasionally odd but never in a way where you get completely lost. You may never get extremely excited about the book, but it can certainly keep you interested. Be warned: This is not an audiobook to play if you have kids in the cab. The language can be pervasively strong.