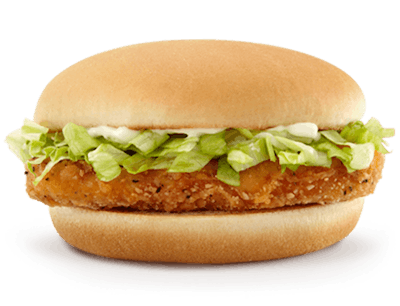 The staff here at Overdrive researched the most popular fast food chicken sandwiches, and these three made the cut for people keeping track of calories, fat, cholesterol and carbohydrates.
Chick-fil-A Original Chicken Sandwich
Chick-fil-A's pioneer chicken sandwich wins for folks counting fat and carb intake, and it's the highest in protein.
Calories: 430
Fat: 17g
Saturated fat: 3.5g
Cholesterol: 60mg
Protein: 30g
Carbohydrates: 38g
Fiber: 3g
Sugar: 6g
Sodium: 1410mg
McDonald's McChicken
The McChicken wins in its calorie count, and it also has the least amount of sodium.
Calories: 360
Fat: 18g
Saturated fat: 3g
Cholesterol: 36mg
Protein: 14g
Carbohydrates: 40g
Fiber: 2g
Sugar: 5g
Sodium: 830mg
Carl's Jr. Spicy Chicken Sandwich
This is the best choice for healthy heart enthusiasts.
Calories: 460
Fat: 26g
Saturated fat: 5g
Cholesterol: 35mg
Protein: 14g
Carbohydrates: 47g
Fiber: 4g
Sugar: 3g
Sodium: 1370mg
Based on a 2,000 calorie diet, the recommended daily nutritional intakes are: Fat – 65 g; Saturated Fat – 20 g; Cholesterol – 300 mg; Sodium – 2400 mg; Potassium – 3500 mg; Carbohydrates – 300 g; Fiber – 25 g; Protein – 50 g.
Consult a nutritionist or doctor for more information on your personal recommended daily nutritional intake.