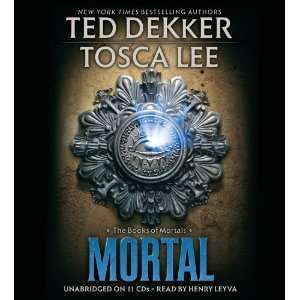 By Ted Dekker and Tosca Lee
Read by Henry Leyva
Hachette Audio
Available on Audible.com, iTunes
Imagine a world in which all emotions have been eliminated, save one: fear. The world could, potentially, find peace with no anger or hate or war. But would that truly be living?
In the second book of "The Books of Mortals" series by Ted Dekker and Tosca Lee, "Mortal," a world just like that is explored, nine years after a man named Rom Sebastian uncovered the truth of the Legion virus, the virus that stripped mankind of their emotions — and essentially their lives — centuries ago. But an ancient potion was found, made of blood not stripped of emotions. Those that are infused with the blood suddenly have emotions again. They are called Mortals.
The Mortals and the people they defend find themselves fighting against traitors from within and enemies from without while they struggle to help humanity survive as best it can.
Read by Henry Leyva, the 11-CD, 13-and-a-half-hour audiobook flows with action and activity often. It's possible to get confused with the voices simply because there are so many characters, but it keeps things separated by and large. The biggest problem you may face is that this is the second book in a series. It probably would help for you to read or listen to the first book, "Forbidden."