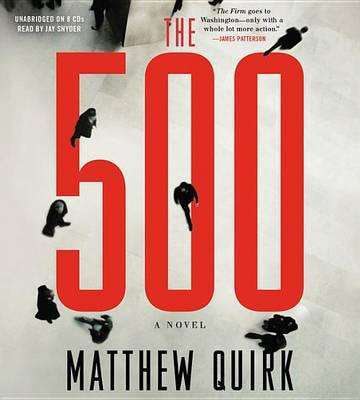 By Matthew Quirk
Read by Jay Snyder
Hachette Audio
Available on Audible.com, iTunes
A common undercurrent of thought in the fans of conspiracy theories is the ownership of the government by shadowy forces, filled to the brim with money and dark secrets and even darker plans.
"The 500," a novel by Matthew Quirk, takes the path of imagining those conspiracy theories are right. Mike Ford, a young man just out of Harvard Law School, lands a job at the Davies Group, a consulting firm in Washington D.C. During his time there, he rises quickly through the ranks. But the higher he gets in the firm, the more he realizes that the Davies Group has quite a bit of a hold over "The 500," D.C.'s 500 most influential people, including senators and judges and the like.
The story follows Ford in an almost "Ocean's Eleven" meets Jason Bourne sort of story, where his conman past and sordid history meet up with violence and action.
Read by Jay Snyder, the nine-and-a-half-hour, eight-CD audiobook keeps its focus extremely well, written from an entertaining first-person perspective. Those who like intrigue and spy games will be pleased, as will those who like to find themselves racing with action, though the action never reaches any sort of explosive level. With a good wit, interesting characters and a familiar, rich premise, "The 500" is a great way to fill the silence on the road.