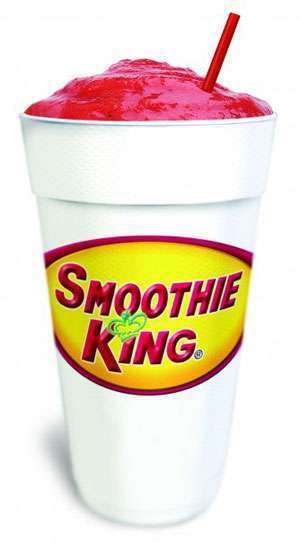 Smoothie King has the ultimate leg up on all other fast food restaurants — the menu is just blended combinations of fruit. All though the idea of a smoothie trumps a greasy burger, be wary of the extra calories and fat hidden in some of the recipes. All nutritional facts are based on a 20 ounce drink.
Healthiest "Stay Healthy" Smoothie – Pomegranate Yerba Maté
The Yerba Maté drinks are made from the leaves and stems of a South American holly tree, the company says. These smoothies will provide a caffeine boost, as well as extra vitamins, minerals and antioxidants.
Calories: 309
Fat: 0 g
Cholesterol: 0 mg
Sodium: 13 mg
Carbohydrates: 74 g
Sugar: 73 g
Fiber: 2 g
Protein: 1 g
Healthiest "Trim Down" Smoothie – Peach Slice
Calories: 251
Fat: 0 g
Cholesterol: 1 mg
Sodium: 65 mg
Carbohydrates: 56 g
Sugar: 55 g
Fiber: 1 g
Protein: 3 g
Try the Slim-N-Trim Orange-Vanilla for fewer calories and carbs, but more cholesterol, protein and sodium.
Healthiest "Get Energy" Smoothie – Green Tea Tango
Calories: 262
Fat: 3 g
Cholesterol: 10 mg
Sodium: 79 mg
Carbohydrates: 46 g
Sugar: 38 g
Fiber: 2 g
Protein: 10 g
Try the Coffee Smoothie Mocha for less fat and carbs, but more cholesterol, sodium and protein.
Healthiest "Snack Right" Smoothie – Cherry Picker
Calories: 273
Fat: 1 g
Cholesterol: 6 mg
Sodium: 237 mg
Carbohydrates: 66 g
Sugar: 54 g
Fiber: 2 g
Protein: 4 g
If you're eating at Smoothie King, you're already making a good decision toward improving your health. Just be cautious to order a smoothie that is also a good choice. If you can't resist the urge to indulge, ask for your smoothie to be made "skinny," which will leave out Turbinado, the sugar cane extract they use to sweeten the smoothies. This can cut the calorie, carb and sugar counts in half while leaving you with enough natural sweetness from the fruit ingredients.
Based on a 2,000 calorie diet, the recommended daily nutritional intakes are: Fat – 65 g; Saturated Fat – 20 g; Cholesterol – 300 mg; Sodium – 2400 mg; Potassium – 3500 mg; Carbohydrates – 300 g; Fiber – 25 g; Protein – 50 g.
Consult a nutritionist or doctor for more information on your personal recommended daily nutritional intake.