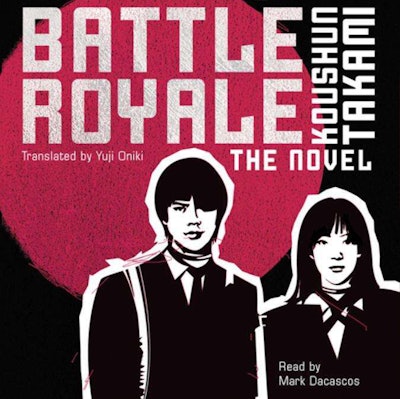 By Koushun Takami, translation by Yuji Oniki
Read by Mark Dacascos
Simon & Schuster Audio
Available on SimonandSchuster.com, Audible.com
Within the past few years, the young adult books series "The Hunger Games" has had an explosion of popularity, leading to a massively successful film adaptation of the first book in the trilogy. When the books first came out, however, many derided them for being similar to the Japanese horror/thriller "Battle Royale."
The premises are, in fact, similar. Both books deal with a tyrannical government forcing teenaged children to compete in a bloody, free-for-all murder matchup with only one victor. But while "The Hunger Games" grants political and social commentary while focusing on one of the few humane and honest characters in the story, "Battle Royale" finds solace in detailing the horrific nature of both humans and the games themselves.
The book takes place in an alternate Japan, ruled by totalitarian state. Children from a ninth-grade class in Shiroiwa Junior High School are thrown onto an island, strapped with explosive collars and given maps, food and various weapons — anything from sawed-off shotguns to a fork. The rules: At least one person must die every 24 hours, or all will die. Every 6 hours, a different section on the island will be off limits and anyone in those sections will be blown up. Last person standing wins. Protagonist Shuya Nanahara attempts to save his crush Noriko Nakagawa without killing anyone, all while the rest of the class devolves to madness.
Read by Mark Dacascos, chairman of "Iron Chef America," the 19-and-a-half-hour book, currently unavailable on CD format, is not for the easily disturbed. Extremely violent and gory, the book truly highlights the most abject cruelty of mankind. Some of the names may be difficult to remember and differentiate at first, and there aren't many changes between different character voices. However, the book gets its story of death and despair off easily. This is a long book that will eat up a lot of silent time in the truck, if you can stomach it.