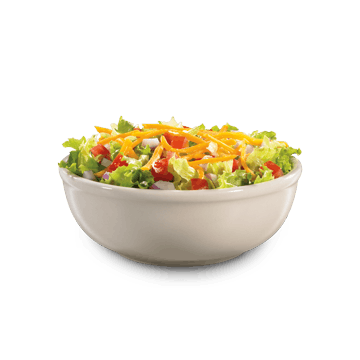 The fast food industry has slowly been shifting to add more health conscious options to their menus as more and more Americans become concerned with obesity and other health problems. Many fast food restaurants now carry salad options, usually topped with chicken if they're topped with any meat at all. The sizes of these salads will vary, but here are some of the healthiest options available.
McDonald's Premium Caesar Salad without chicken
Calories: 90
Fat: 4 g
Cholesterol: 10 mg
Sodium: 180 mg
Carbohydrates: 9 g
Fiber: 3 g
Sugar: 4 g
Protein: 7 g
If you're looking for more protein, this salad can come with chicken. If you order chicken on it, grilled is the healthier option. It will raise all of the nutritional values, but only calories, sodium and protein have significant changes.
Arby's Chopped Side Salad
Calories: 80
Fat: 5 g
Cholesterol: 15 mg
Sodium: 105 mg
Carbohydrates: 5 g
Fiber: 2 g
Sugar: 2 g
Protein: 5 g
Chick-fil-A Chargrilled Chicken Garden Salad
Calories: 180
Fat: 6 g
Cholesterol: 60 mg
Sodium: 450 mg
Carbohydrates: 11 g
Fiber: 4 g
Sugar: 6 g
Protein: 23 g
Adding dressing to these salads will make them not as healthy for you. If you want to have some dressing on your salad, try to stick with a light, low-fat dressing. Many types of vinaigrette will be healthier than other non-light dressings. Also look into light Italian dressing.
Based on a 2,000 calorie diet, the recommended daily nutritional intakes are: Fat – 65 g; Saturated Fat – 20 g; Cholesterol – 300 mg; Sodium – 2400 mg; Potassium – 3500 mg; Carbohydrates – 300 g; Fiber – 25 g; Protein – 50 g.
Consult a nutritionist or doctor for more information on your personal recommended daily nutritional intake.