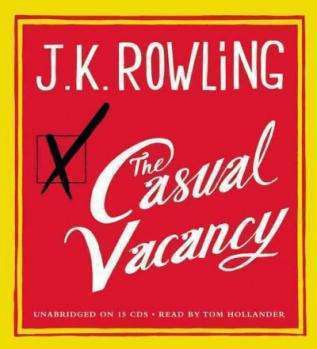 By J. K. Rowling
Read by Tom Hollander
Hachette Audio
Available on Audible.com, iTunes
It's hard for a writer to stay away from the writing desk. Years after the seventh and final book in her massively popular fantasy series about a young wizard named Harry Potter, J. K. Rowling has come out with another book. This time, however, she has left the world of magic behind and decided to write something for a more adult audience.
"The Casual Vacancy" is a sometimes humorous but often tragic novel about a suburban British town called Pagford. When Parish Councillor Barry Fairbrother succumbs to an aneurysm and dies, he leaves a seat on the council vacated while the council is in session. As people in the town become eager to fill the position, setting up a very contested election, chaos ensues as a number of issues arise.
The novel deals with many subjects of a far more serious nature than one might expect given Rowling's last novels. While she hinted at a darkness and maturity, particularly in the last few Harry Potter books, "The Casual Vacancy" finds itself taking on controversial subjects like rape, prostitution and drug use. It can be a gritty book, describing sexual acts and scandalous behavior without much reservation.
Read by Tom Hollander, the 15-CD, 18-hour audiobook keeps itself interesting. It's not necessarily gripping or action-oriented, but it is very capable of keeping your attention if you're interested in the story and its large cast of characters. Some of the voices are a bit hard to differentiate from one another, but that's to be expected with 34 characters in the book, and it doesn't take away from the novel's experience. This is a book that you will probably either enjoy or dislike entirely, depending on your tastes. But it's definitely worth a try, if only to see Rowling leave Hogwarts.