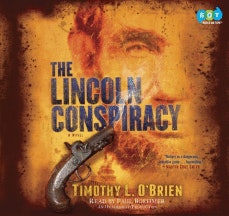 By Timothy L. O'Brien
Read by Paul Boehmer
Books on Tape
Available on BooksOnTape.com, Audible.com
When it comes to presidential assassinations, conspiracy theories tend to grow like wildfire. While we know the man that pulled the trigger, such as Lee Harvey Oswald for President John F. Kennedy and John Wilkes Booth for President Abraham Lincoln, there still abounds the possibility that more than one person was involved and planned this. After all, many assassinations in history have been at the hands of politically rebellious groups, so maybe it makes some sense to wonder whether JFK was the target of a mafia or CIA hit.
"The Lincoln Conspiracy" by Huffington Post executive editor Timothy L. O'Brien delves right into that question of conspiracy and intrigue like so many other writers have pondered. However, instead of creating the conspiracy and walking through it before the assassination as many authors have, O'Brien puts us in the shoes of a Washington, D.C., police detective Temple McFadden not long after Lincoln's death, allowing us to uncover the conspiracy after the fact.
The book is a historical thriller, throwing the reader straight into the action in the first chapter, guns blazing and people being hunted down and killed. O'Brien kicks off the story with enough action to keep you interested and remind you that this is a conspiracy that murdered the president: Clearly, people mean business. Through the action and thrills of his original characters Temple and his wife Fiona, O'Brien sets up the realism of the story by introducing us to historical characters like Allan Pinkerton and Sojourner Truth.
Read by Paul Boehmer, the 10-CD, nearly 13-hour audiobook keeps up a rather lively pace with variety of action and scenery. The characters are interesting and stand out, both in description and with some good vocal and accent work from Boehmer. If you enjoy historical fiction and like to think about the possibility of conspiracies for fun, "The Lincoln Conspiracy" is a book worth listening to.