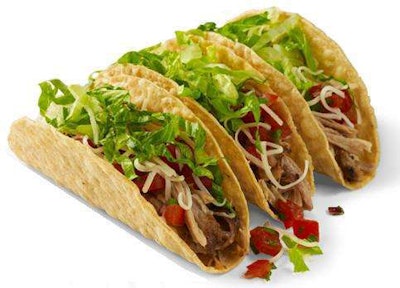 Yes, eating at Chipotle is relatively healthy, and the staff here at Overdrive praises the restaurant for using farm-raised and grass-fed beef, chicken and pork. But with so many available options, knowing which ones are the healthiest can be difficult to keep up with. We're here to help with that.
Healthiest breading – Crispy Taco Shell
Each crispy taco meal includes three tacos.
Calories: 60
Fat: 2 g
Cholesterol: 0 mg
Sodium: 10 mg
Carbohydrates: 9 g
Fiber: 1 g
Sugar: <1 g
Protein: <1 g
Healthiest meat – Steak
Calories: 190
Fat: 6.5 g
Cholesterol: 65 mg
Sodium: 320 mg
Carbohydrates: 2 g
Fiber: 0 g
Sugar: 1 g
Protein: 30 g
Healthiest salsa – Green tomatillo salsa
Calories: 15
Fat: 0 g
Cholesterol: 0 mg
Sodium: 230 mg
Carbohydrates: 3 g
Fiber: 1 g
Sugar: 2 g
Protein: 1 g
You can also go without breading by getting a burrito bowl, and there is a guacamole and refried black beans vegetarian option for a meatless meal. Replace beans with fajita vegetables for a lower carb meal.
Based on a 2,000 calorie diet, the recommended daily nutritional intakes are: Fat – 65 g; Saturated Fat – 20 g; Cholesterol – 300 mg; Sodium – 2400 mg; Potassium – 3500 mg; Carbohydrates – 300 g; Fiber – 25 g; Protein – 50 g.
Consult a nutritionist or doctor for more information on your personal recommended daily nutritional intake.