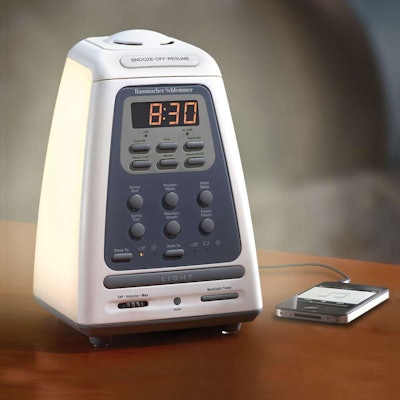 The Hammacher Schlemmer peaceful progression wake up clock uses gradually increasing light, aromas and nature sounds to wake people up. At 30 minutes before wake-up, the clock's light begins to glow, brightening over the next half-hour. The device can simultaneously release aromatherapy scents into the air. Fifteen minutes before wake-up, the clock generates a choice of six nature sounds – ocean surf, thunderstorm, white noise, spring rain, mountain stream and forest stream. The cycle concludes with a chime that gradually increases in volume.
The clock includes four different aromatherapy beads – Ocean Water, Pear Vanilla, Lavender Essence and Clean Cotton – and has a stainless steel bowl for aromatherapy oils of the user's choice. It also has a snooze function and 30-, 60- and 90-minute automatic shut offs. There is also 3.5 mm auxiliary jack that allows connection to an iPhone, iPod, or CD player. It weighs 3 lbs. and is only 7 1/2 inches tall by 5 1/3 inches wide by 6 inches deep.
For more information, visit www.hammacherschlemmer.com or call 800-321-1484.