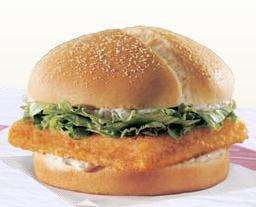 While seafood-oriented fast food restaurants are few and far between, there are several options available if you're looking for a fish sandwich or other fish dish of some kind, some in places you might not even think to look. Here are some examples of the sandwiches available.
Popeyes Catfish Po' Boy
Calories: 800
Fat: 50 g
Cholesterol: 75 mg
Sodium: 2015 mg
Carbs: 65 g
Fiber: 3 g
Protein: 27 g
Captain D's Wild Alaskan Salmon
Calories: 116
Fat: 1 g
Cholesterol: 46 mg
Sodium: 317 mg
Carbs: 1 g
Fiber: 2 g
Protein: 25 g
McDonald's Filet-O-Fish
Calories: 380
Fat: 18 g
Cholesterol: 40 mg
Sodium: 610 mg
Carbs: 39 g
Fiber: 2 g
Protein: 16 g
Burger King BK Big Fish without Tartar Sauce
Calories: 410
Fat: 12 g
Cholesterol: 30 mg
Sodium: 1240 mg
Carbs: 53 g
Fiber: 3 g
Protein: 21 g
Burger King and McDonald's seem to have two of the healthier options in fish sandwiches, but you always have to take size into account. Eating small portions is always a healthy idea, but if you have to eat two or three of a smaller sandwich to get full, it may be better for your health and wallet to get just one of the bigger sandwiches. Make your own judgment based on what you want to avoid or have more of with your nutrition.
Based on a 2,000 calorie diet, the recommended daily nutritional intakes are: Fat – 65 g; Saturated Fat – 20 g; Cholesterol – 300 mg; Sodium – 2400 mg; Potassium – 3500 mg; Carbohydrates – 300 g; Fiber – 25 g; Protein – 50 g.
Consult a nutritionist or doctor for more information on your personal recommended daily nutritional intake.