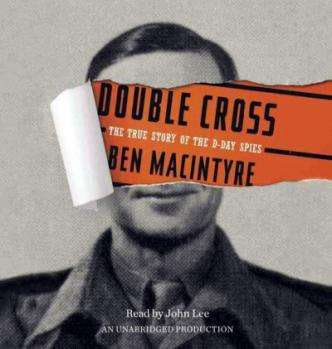 Read by John Lee
Random House Audio
Available on Audible.com, RandomHouseAudio.com
D-Day is almost certainly the most famous invasion force in the history of mankind. On June 6, 1944, the invasion of the Normandy beaches by the Allied forces of World War II was the beginning of the end of Nazi Germany's power in Europe. While taking the beaches was bloody, with more than 12,000 Allied casualties, it was a much smaller percentage of the more than 150,000 troops that landed than might have been if not for the spy network feeding Germany with misinformation.
Until recently, the British MI5 spy system known as Double Cross (or Department 20 as a pun on the Roman numerals XX) was kept under wraps. However, with the information's recent declassification, Ben Macintyre has brought the rather eccentric and odd stories of the characters of Double Cross to life in his historical book "Double Cross."
Focusing mostly on five spies at the center of the Double Cross system – a Serbian playboy, a Polish fighter pilot, a bisexual Peruvian socialite and gambling girl, an eccentric Spaniard and a volatile Frenchwoman overly attached to her dog – Macintyre brings the true story of these characters and their secret, yet vitally important, battles during World War II. The Double Cross spies were charged with the task of gaining the trust of the German spy network and acting as spies for them but actually being double agents for Britain fighting to keep the truth of the D-Day invasion a secret.
Read by John Lee, the 10-CD, 12-and-a-half-hour audiobook creates a very interesting narrative, particularly for anyone that happens to be a fan of history. The characters throughout the stories are interesting and very unique, and Lee does a good job of differentiating between narrative and quotation, giving appropriate accents so you can tell the characters apart, or at least the good guys apart from the Germans. If you enjoy learning about history, about war time and about the sometimes crazy characters and actions behind the scenes, "Double Cross" is a great book to listen to.