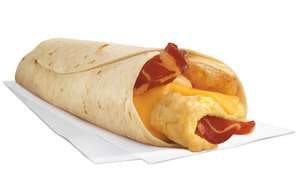 Eating a good breakfast is the best way to start the day. Burger King offers a wide variety of choices, some way better than others. We love their French toast sticks dunked in syrup (25g of sugar!) but there are better options. Hint: Anytime a fast food restaurant uses these words; "ultimate, enormous, double, triple or decadent," you can skip right past that item!
We like to order from the kids' menu whenever we can. They usually have less sodium, fat and sugar. And, sometimes it comes with an action figure!
BK Kids Breakfast Muffin Sandwich
(Egg, cheese, English muffin)
Calories: 240
Fat: 11 g
Sodium: 550 mg
Sugar 2 g
Cheesy Bacon BK Wrapper
(bacon, eggs, hash browns, cheese, tortilla)
Calories: 380
Fat: 24 g
Sodium: 1020 mg
Sugar: 2 g
Fruit Topped Maple Flavor Quaker Oatmeal
(Oatmeal, maple and brown sugar flavored oats, dried fruit)
Calories: 270
Fat: 4 g
Sodium: 290 mg
Sugar: 29 g
Based on a 2,000 calorie diet, the recommended daily nutritional intakes are: Fat – 65 g; Saturated Fat – 20 g; Cholesterol – 300 mg; Sodium – 2400 mg; Potassium – 3500 mg; Carbohydrates – 300 g; Fiber – 25 g; Protein – 50 g.
Consult a nutritionist or doctor for more information on your personal recommended daily nutritional intake.