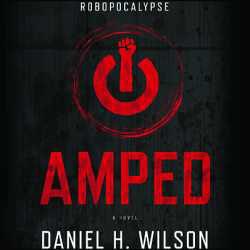 Read by Robbie Daymond
Random House Audio
Available on Audible.com, RandomHouseAudio.com
I feel very fortunate to have been born when I was. Sure, living through the years of, say, the 1960s seems fun, with music and hippies seeming almost glamorous through a nostalgic look. When you actually stop and think of some of the things that were going on then, though, like severe racial inequalities, I find myself liking the current years. We're not perfect, to be sure, but we've come a long way as a world and as a nation. Some may disagree, but treating people equally is something I think we should strive for.
So, when Daniel H. Wilson's book "Amped" starts off with a Supreme Court decision ruling that humans with cybernetic enhancements are not protected under the Constitution's Citizenship and Equal Protection Clauses of the 14th Amendment, I was a bit incredulous. After all the stuff America has gone through, could we really treat a group of people as sub-human? Unfortunately, the answer is very likely yes.
In the future, amplifiers are created as cybernetic enhancements, usually to help cure people of diseases or physical handicaps. Eventually, they were created to counter mental handicaps, and soon, non-amplified people were having trouble keeping up with the "amps." When the Supreme Court makes its decision, "amps" are treated as basically non-humans, like animals, many thrown out of their homes and jobs, some even killed. Owen Gray, who has an amp installed supposedly to control his childhood seizures, finds himself in rural Oklahoma, hunted by the government after his father tells him that his amp can do far more than he thinks.
The 7-CD, 8-and-a-half-hour audiobook is read by Robbie Daymond, and he does a good job differentiating voices. The book is written entirely from Owen's first person view, but occasionally is interspersed with news clippings, sections of Supreme Court rulings and other pieces of media that affect Owen's life, whether he knows about them or not. Difficult to put in a category, except perhaps dystopian science-fiction, "Amped" really makes you think about what we consider humanity to be and what you might do if the definition changed overnight. If you want a thought-provoking, somewhat plausible sci-fi novel, "Amped" is worth a read.