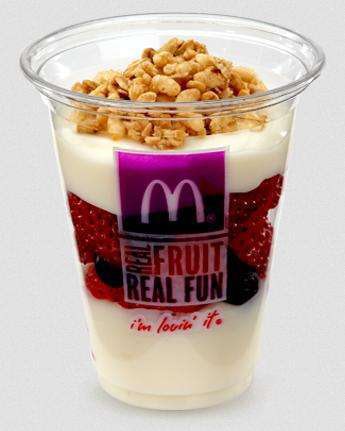 McDonald's breakfast lineup has many options and includes the McGriddle, the McSkillet, the McMuffin and the standard breakfast biscuit or platter of different common breakfast items. It can be hard to sort out what's what, and, more importantly, what you're actually getting nutritionally when choosing any type of meal prefixed with "Mc." So, who wins the battle for the crown of healthiest?
Fruit 'n Yogurt Parfait
Calories: 150
Fat: 2 g
Cholesterol: 5 mg
Sodium: 70 mg
Carbohydrates: 30 g
Fiber: 1 g
Protein: 4 g
Hotcakes
Calories: 350
Fat: 9 g
Cholesterol: 20 mg
Sodium: 590 mg
Carbohydrates: 60 g
Fiber: 3 g
Protein: 8 g
Egg McMuffin
Calories: 300
Fat: 12 g
Cholesterol: 260 mg
Sodium: 820 mg
Carbohydrates: 30 g
Fiber: 2 g
Protein: 18 g
Sausage Burrito
Calories: 300
Fat: 16 g
Cholesterol: 115 mg
Sodium: 830 mg
Carbohydrates: 26 g
Fiber: 1 g
Protein: 12 g
There are also various oatmeal breakfast options at participating McDonalds. Try the Fruit & Maple Oatmeal without brown sugar for another healthier option, if it's available.
Based on a 2,000 calorie diet, the recommended daily nutritional intakes are: Fat – 65 g; Saturated Fat – 20 g; Cholesterol – 300 mg; Sodium – 2400 mg; Potassium – 3500 mg; Carbohydrates – 300 g; Fiber – 25 g; Protein – 50 g.
Consult a nutritionist or doctor for more information on your personal recommended daily nutritional intake.